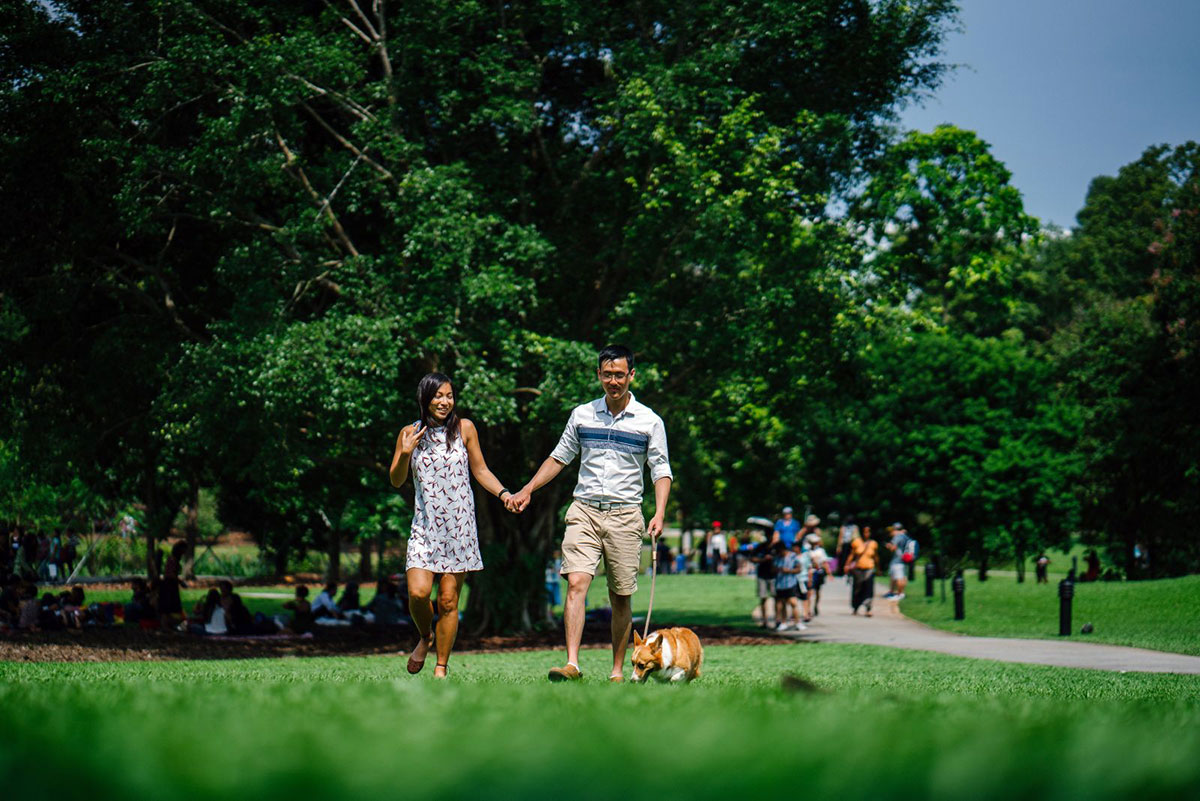 Walking with your dog seems like a basic and simple activity. However,
it is also a source of much conflicting discourse among dog owners, trainers and vets.
Questions arise, like:
•What devices should be used on a walk?
• Should my dog be allowed to walk at his pace and sniff?
• Should my dog be walking close to the walker, otherwise known as the 'heel' command?
• How should I handle my dog who likes to pull on the leash?
• Should I be running my dog like I would exercise myself?
• Should I let my dog meet other dogs when on walks?
These questions can be answered easily once the purpose of the walk is agreed on. A walk for the dog on many occasions is a form of enrichment. It provides mental stimulation as he evokes his 300 million scent receptors, gathering complex information along the way.
It is also precious time spent for the dog to communicate its presence to the world by scenting and marking and a source of physical exercise for the dog.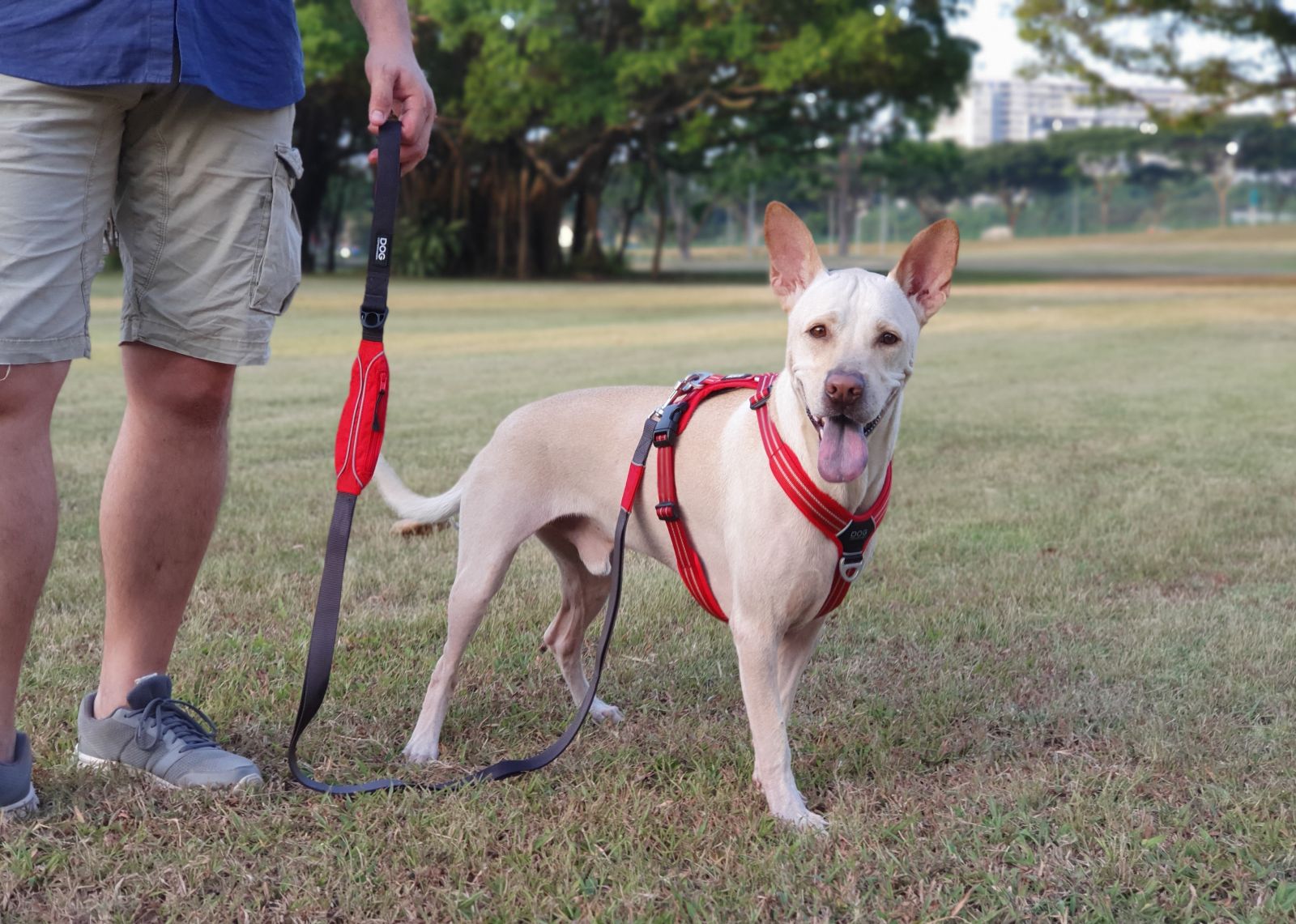 What Should Be Used?
• A long leash (4ft - 6ft or 1.2m - 1.4m) and a well fitted and padded harness are recommended.
• Avoid retractable leashes as they require the dog to pull in order to move forward.
• The retractable mechanism can also be a source of rope burn injury to the handlers.
• Avoid neck collars, choke chains, prong collars and electric collars as these have the potential to cause serious neck injury and harm to the dog.
Should My Dog Be Allowed To Walk At His Pace And Sniff The Ground?
A nose to a dog is like eyes to a human. Imagine yourself taking a walk in the park blindfolded! Sniffing helps the dog suss out their environment and determine where they plan to mark their presence with urine or poo.
Sniffing and marking are activities that need time and concentration from the dog. Rushing them or pulling them away as they are sniffing the ground takes away important mental stimulation for the dog and can result in frustration and anxiety on the walk.
Should I Maintain A 'Heel' Command With My Dog Throughout The Walk?
The heel command has its usefulness when the handler wants to keep the dog close to his side. For instance, in busy areas or when there may be distractions about. However, it is not recommended that this be done throughout the walk as it prevents the dog from relaxing, and sniffing the ground around.
A dog's natural pace is also faster than a human's, and it will be difficult for a dog to maintain this controlled heeling pace for the entire duration of a walk.
How Should I Handle My Dog Who Likes To Pull On The Leash?
Using a long fixed-length leash (4 - 6ft or 1.2m - 1.4m), not a retractable one, allows the dog to have a sense of freedom yet keeps him safely contained. The following two techniques can be used to teach a dog not to pull.
• Stop And Be Still
Whenever the dog pulls, immediately stop and stand completely still until the leash relaxes because the dog either takes a step back or turns around to give you focus. When the leash is nicely relaxed, proceed on the walk. Repeat this as necessary.
• Go The Reverse Direction
When the dog pulls, issue a 'let's go' cue, turnaway from him, and walk off in the other direction without jerking on the leash.
Use an excited voice or a treat to get his attention but avoid pulling on the leash to get him moving. When he is following you and the leash is relaxed, turn back and continue on your way.
Both these techniques may take a few rounds of practice but the dog will soon understand that pulling will not be reinforced with forward movement. Instead, the dog will learn that walking calmly by your side or even slightly in front of you on a loose leash will allow your dog to get to where he wants to go.
It is also important to practice reeling in long leashes and not getting entangled in them.
Remember that it is always best to survey the environment and stay away from triggers that will make the dog pull in the first place.
Should I Be Running My Dog Like I Would Exercise Myself?
Just as humans have different fitness levels, depending on their age and health status,
the same applies for dogs – with a few more considerations, including their breed and physical conformation.
For instance, it not advisable to run long distances with a puppy as their growth plates have not closed and the impact of the run can affect their joints. Different breeds are suited for long-distance versus mid-distance versus short jogs.
| | |
| --- | --- |
| Long distance | Vizla, Weimaraners, Dalmatians, Border Collies |
| Mid distance | Labradors, Beagles, Shepherds, Boxers, Retrievers, Labradoodles |
| Short jog | Corgis, Great Danes |
| Sprinting | Greyhounds, Whippets |
| Slow walk | Small breed dogs, Flat nosed dogs |
Source: https://outdoordogfun.com/how-many-miles-can-a-dog-run

This list may also vary depending on the individual animal. Our Singapore Special dogs are likely to be suitable candidates for mid-distance walks and a short jog depending on their built, physique and stamina levels.
All owners should bring their dogs for a vet check to ascertain their health condition and presence of pre-existing conditions eg: heart, joint, respiratory problems that may make them less suitable for strenuous physical exercise.
Should I Let My Dog Meet Other Dogs When On Walks?
Dogs that are leashed cannot display natural behaviours like running away from a situation or a dog that makes them feel uncomfortable.
When this flight response is removed, the other response the dog has is to fight. And breaking up a fight between dogs caught in leashes is no easy task.
So, unless your dog knows the other dog already and it is not a meeting for the first time, a face-to-face meeting on leash is not a recommended way to introduce dogs for the first time.
It is also for this reason why pack walks – a group walk of more than two dogs and is led by a dog walker, is discouraged.
Be mindful that even if your dog is sociable and friendly, the other dog may not be comfortable about your dog staring at them and pulling directly towards them. It is always best to prevent tension and a fight from ensuing.
Now that you have gotten the scoop on the do's and the don'ts of walking with your dog, get out there and let's allow our beloved dogs to have some stimulating sniffing and exercise time. We, as their guardians, can be an extra pair of eyes to ensure that their walk remains a safe and stress-free one.
Enjoy the walk and keep alert at all times!
By: Dr Liang Xutian BVSc(Hons)
Certified Veterinary Acupuncturist
Fear Free Certified Veterinarian
Disclaimer: This information in this article is general in nature and represent the views of the author. While she is not a qualified dog trainer, Dr Liang is a Certified Veterinary Acupuncturist, and Fear Free Certified Veterinarian.
---

WIN FABULOUS PRIZES FROM LOYAL.D BY ANSWERING THE FOLLOWING QUESTION: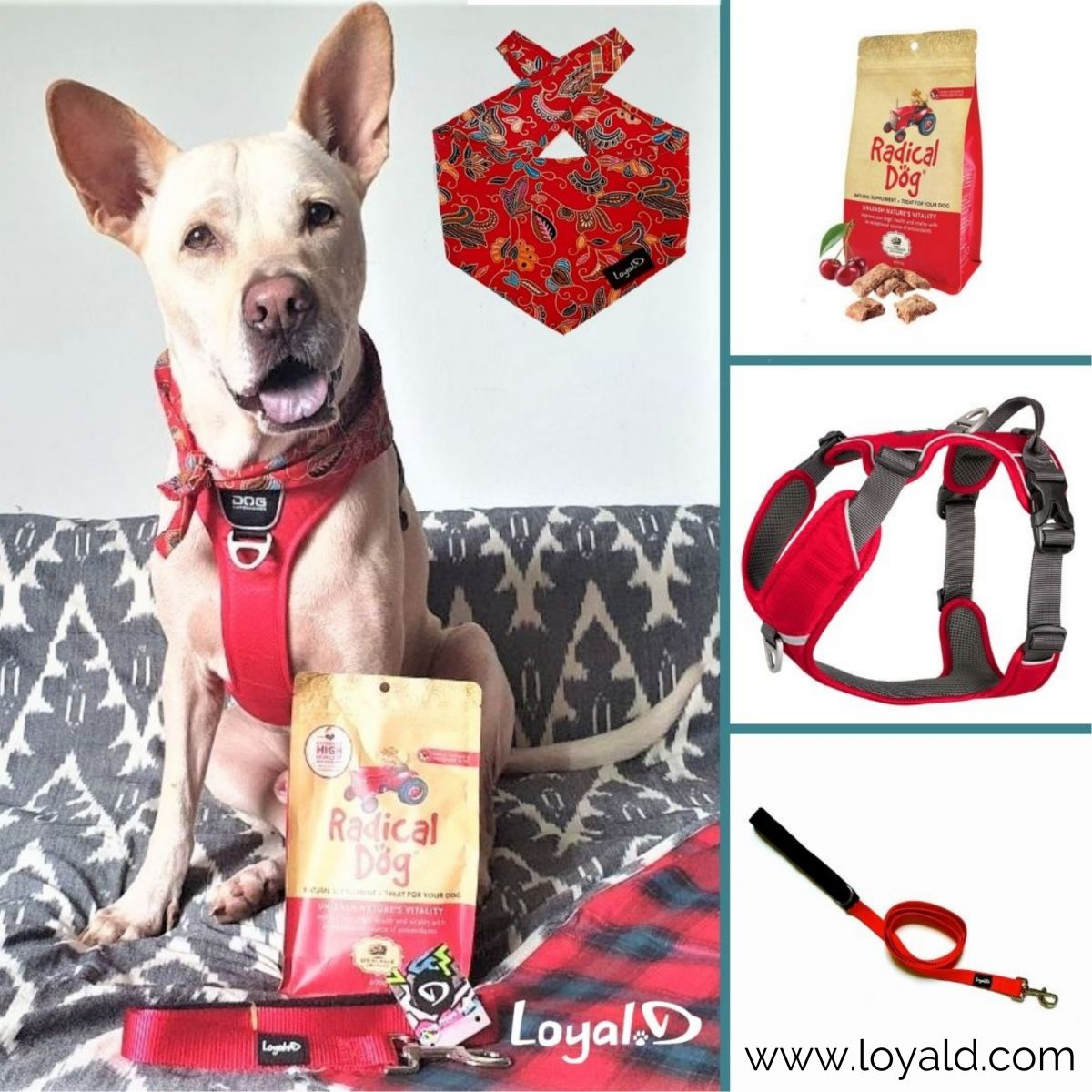 How has using a harness changed your dog walks for the better?
Email your answer to: customerservice@loyald.com and include a picture of your dog too! Contest ends on 30 June 2021.
Loyal.D will be offering a gift hamper worth $185, which includes:
• A harness of the winner's choice
• A Loyal.D leash and bandana
• 1 pack (400gm) Radical Dog antioxidant treats,
• $8 OFF gift voucher & a Fear Free T-shirt (limited sizes)
Terms & Conditions:
• Only Singaporeans and Permanent Residents are eligible to participate.
• The photo must be taken by the entrant himself/herself.
• Winning photo will be used for Loyal.D social media purposes.
• All entries must be received by 11.59pm on 30 June, 2021.
• The selected winner will be announced on 15 July.
• Loyal.D will contact the winner directly via email.
• The judge's decision is final and no correspondence will be entered into.
• The prize must be taken as stated and cannot be deferred or exchanged for cash.
• This competition is not open to employees or contractors of the PMAM, Loyal.D, or any person directly or indirectly involved in the running of the contest, or their direct family members.
• PMAM/Loyal.D reserves the right to amend/change the terms and conditions without prior notice. The decision of PMAM is final.
• This contest is organised by Loyal.D and PMAM.
---
About Loyal.D...

Loyal.D is a socially responsible brand that is passionate about advocating the lifetime responsibility and bond between people and their pets and making the dog walk enjoyable for both.
They promote the use of accessories like harnesses, along with the right leash handling skills, to help pet owners ensure they and their dogs enjoy a safe, comfortable, and stress-free walk. Their current harness range includes the brands Ruffwear, DOG Copenhagen, 2Hounds Design Freedom Harness, and Sputnik.
• Website: Loyal.D
---