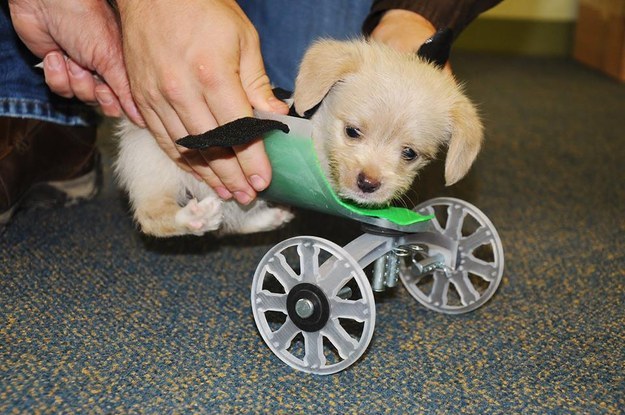 Tumbles, a one-month-old terrier beagle cross puppy, is unlike the rest of the furkids at the Friends of the Shelter Dogs (FOSD). He was born without front legs.
However, thanks to the hard work of a special couple and scientists from Ohio University Innovation Center (who designed and printed Tumble's wheelchair respectively) he is now rolling his way around.
Karen Pilcher, the shelter's rescue coordinator and Tumbles' rescue mother said that he was the runt of the litter and was having trouble competing for his mother's milk. She said, "He was getting pushed out by the others. We thought he wouldn't make it."
The two-legged pup, weighed a mere 700g when he was born in October 2015, and thus had to be bottle-fed for a week to make sure he received the nutrients he needed. FOSD president Angela Marx said, "We decided that he really needed extra special care, and to be bottle-fed so he could be strong and healthy."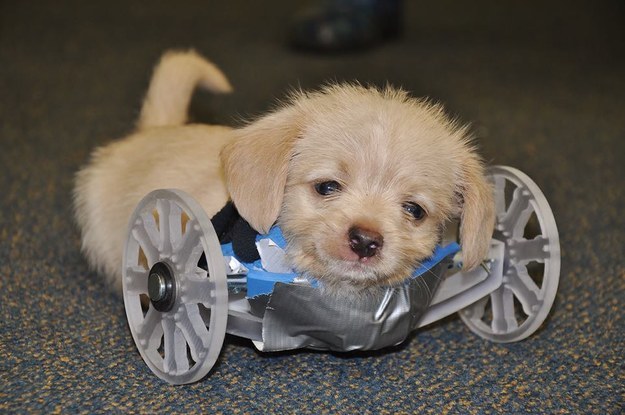 After Karen decided to foster Tumbles, a volunteer of FOSD posted his story on Facebook. A couple saw it and offered to help--they came up with the design of the wheelchair and contacted the Ohio University Innovation Center to produce it by using a 3-D printer. It was being printed within 14 hours.
Tumbles had his first wheelchair fitting on 10 Nov 2015. Take a look at his first time on wheels:
Joe Jollick, the lab's director, said that he is thrilled with the results. "Everyone is real enthusiastic. Our main goal was to get him off the ground. The second thing is to get him used to it."
Tumbles will need to go through physical therapy to get used to his new wheels. Joe said that the puppy's caretakers would have to have "a lot of patience" as "it's a tiny, little puppy so it's going to take some work."
That said, his foster mum has complete faith in him. She said, "His spirit is incredible. He's perfectly happy and he loves to play."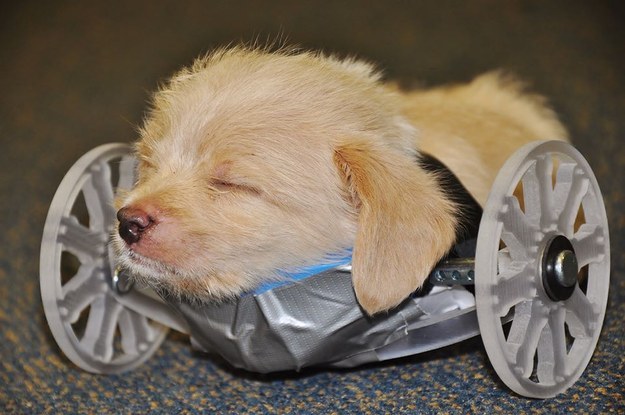 Tumbles will have a second fitting this week for a newly designed wheelchair with smaller training wheels so that the pup won't continue to fall on his nose. Karen said that the furkid is getting the hang of it and has even started to hop when he gets excited.
Once Tumbles is a little older and is used to his wheels, he will be put up for adoption and his foster fur-mily can rest assured knowing that the Innovation Center has pledged to make his wheels for life!
For more information, visit: http://www.fosdathens.com.
---
*This article was updated on 14 Jun 2021. It first appeared in PetsMagazine.com.sg on 20 Nov 2015.