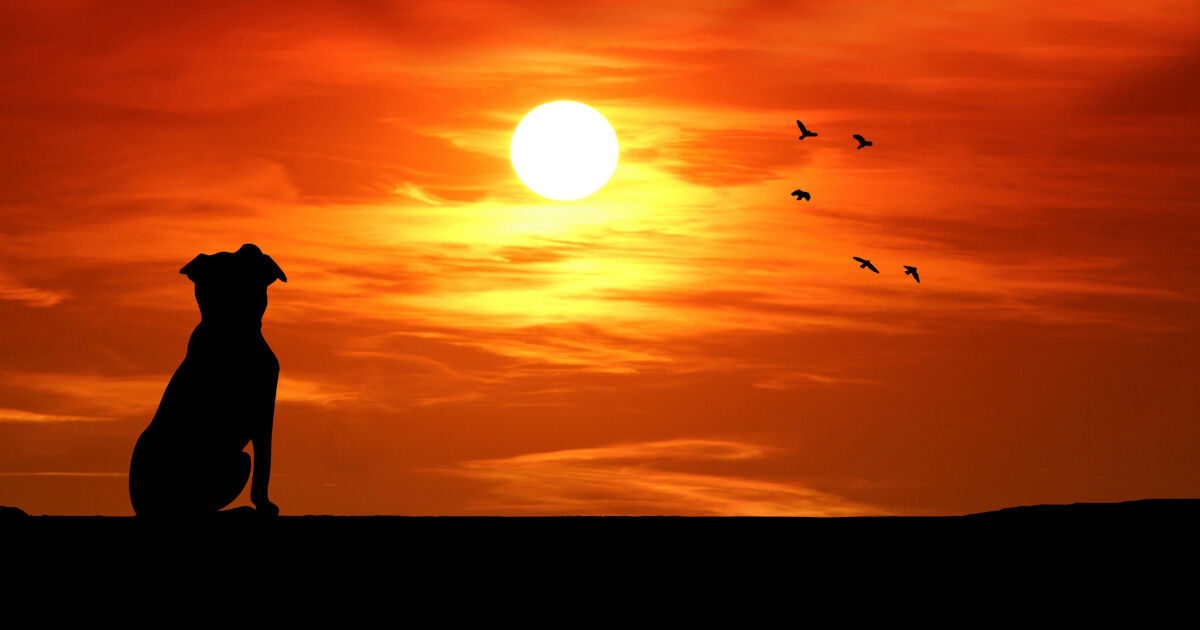 When a family pet dies, our grief may mirror the grief experienced when we lose a human family member. Yet, our emotions are often met with a lack of sympathy and understanding, even from those closest to us.
But with growing recognition of the special human-animal bond, we need no longer suffer in silence at the parting of our beloved pets.
Society's attitude towards non-human animals seems hopelessly muddled. On the one hand, everyday thousands of pets are sold and purchased like a commodity. Our very laws confirm they are mere personal property, like a chair or a toaster.
On the other hand, most pet owners say they consider their pets to be members of their family. Pets are loved as best friends and "fur babies".
SENTIENT BEINGS
It seems it's a profound muddle that's a long way from being resolved. But we are witnessing a shift in thinking. In laws being passed around the world, animals are being increasingly recognised as sentient beings, capable of feeling emotion, pain, and suffering.
And, as the human-animal bond gains credence at law and within society, there's growing acknowledgement that the grief felt at the loss of a pet frequently mirrors grief at the loss of a human.
Pet bereavement is accepted as having similarly profound consequences, including depression, anxiety, and social withdrawal.
BEREAVEMENT SUPPORT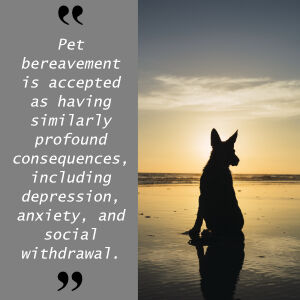 David Foote is familiar with this grief. A practising veterinarian for 20 years, he recognised a need that was not being met. "I knew there was a need for bereavement support for pet owners," he says, "just from seeing them struggle so much." David now specialises in grief over pet loss and provides counselling for bereaved.
David sees a change in society's acceptance of pet bereavement in recent decades. However, there is still a lack of understanding that, for many, the relationship with a non-human animal can be the most significant in a person's life.
Sometimes even those closest to a bereaved person will downplay pet loss: they say a deceased dog was "just a dog" or give advice to "get another one"— as if the pet can be easily replaced.
This can make the pet owner feel ashamed of their grief. "Grief is hard enough. It's a maelstrom of difficult feeling for most people," says David.
"Adding shame about grief adds another dimension. The last thing someone struggling with bereavement need to do is feel ashamed about their grief."
The grief may be shut down and suffered in silence, causing serious mental health consequences for the bereaved person.
THE FEELING OF GUILT
Pet loss can be even more emotionally fraught and challenging if it involves an end-of-life decision and euthanasia. Although the origin of the word 'euthanasia' means 'good death', a pet owner who makes the decision to euthanise may feel it was anything but 'good'.
"'I feel like a murderess'", David recalls one pet owner saying after her cat was euthanised. "Guilt is very common."
Also normal is seeing, hearing, or feeling the deceased animal. "It's a real thing," says David. "Some people hear their dog at the water bowl when their dog's not there. Auditory and visual hallucinations are part of the grief, and usually occur early on… it's recognised. We don't really know the exact explanation for it."
Part of David's mission in his counselling practice is to raise awareness of these complex emotions. "We must understand and be kind to people who are bereaved over pet death," he says. "And even if you can't understand it, well, don't say harsh things."
BASIC UNDERSTANDING
A first step in understanding would be recognising why we feel love for and connection with our pets. "The human-animal bond is different from the human-human bond, "says David.
"With our animals, it's uncomplicated … It's that unconditional love. They give us these covert messages about ourselves: I love you, you're good enough, you're great." There are not many people that convey such steadfast, unconditional devotion.
Pet bereavement needs to be processed and not forced underground, to be suffered in silence. With education and awareness, those closest to the bereaved person, including the family GP, can provide the necessary help.
David observes that because the grief is so specific pet bereavement counsellors are an excellent support option. Ultimately, the loss of a pet is not necessarily something that we ever "get over". And that's okay.

Text By Kate Roberts
Kate is a freelance journalist, lawyer and gardener. And, also the author of the children's picture book Cooee! Cat with a Knack, and other books in the Cooee! series. She shares her home in Queensland, Australia, with three dogs, one cat, two horses, five geese and numerous chickens, and a variety of humans.
---
About David Foote…
David Foote graduated as a veterinarian in 1980 from the University of Queensland and spent 20 years in private veterinary practice in Australia and the United Kingdom before deciding to pursue a career in counselling and personal development.
He has trained and worked in general and crisis counselling with Lifeline and also completed bereavement counselling training at the Bereavement Care Centre in Sydney.
He now specialises in pet bereavement counselling and offers a range of services to provide help, support and guidance to all those involved in veterinary practice.
He works out of Brisbane and Sydney, Australia, and also offers telephone consultations: www.davidfoote.com.au