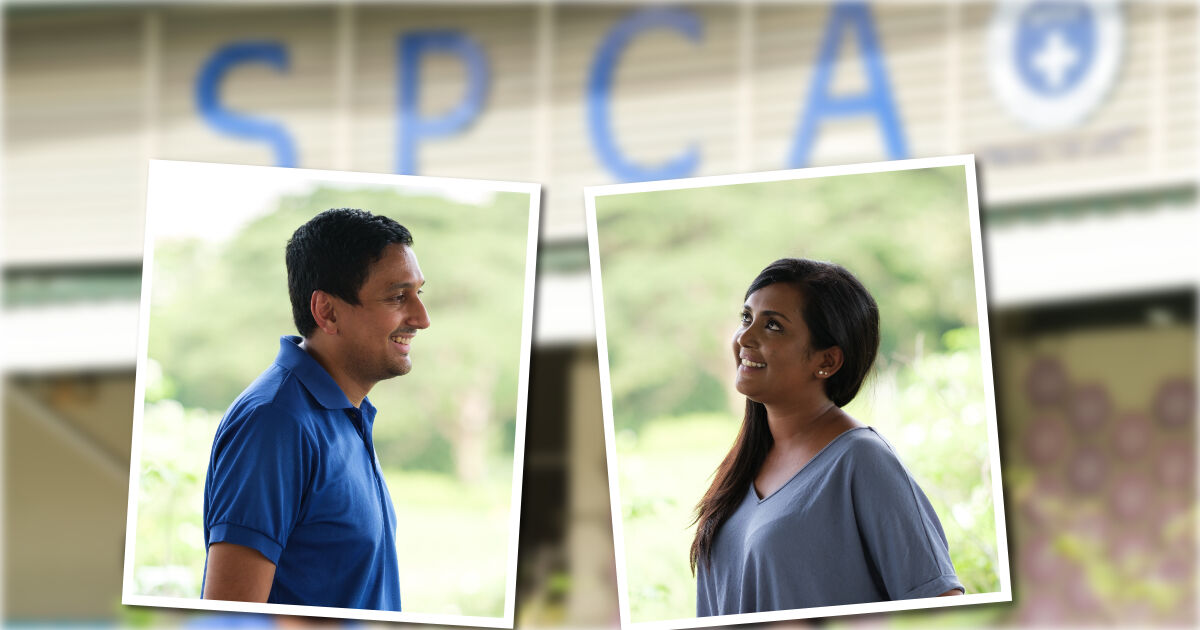 Change is inevitable, and change in command usually create uncertainty within any organisation and its affiliates..
The incumbent, Dr Jaipal Singh Gill has turned his lifelong love of animals into a crusade – and a career. He has been involved with the Society for the Prevention of Cruelty to Animals (SPCA) since 2007 in various capacities.
Now, after six years at the helm as its Executive Director, he is leaving Singapore's largest and longest-serving animal welfare NGO. At the end of this Dec 2021, he is off on his "own adventures with family".
Stepping into his shoes is a relative new face (at least in the world of Animal Welfare Groups). She is Aarthi Sankar, 34, a Community Engagement and Transformation Specialist ie: she amps up the engagement with people.
While Jaipal brings an arsenal of knowledge and experience in animal welfare, Ms Aarthi's strength lies on the other side of the equation: Volunteeer engagement and communications.
People Power
With a wealth of experience in community engagement, she brings to the table a keen understanding of public policy formulation and the wherewithal to win over the multiple stakeholders.
She carries with her an entire toolbox of qualities and traits that, when the opportunities arise, will be able to put them in good use.
Her being with the People's Association (PA) for more than a decade, puts her on stable ground. Her experience in bridging the public and private sector divide is a strength that will undoubtedly serve the SPCA as the organisation moves ahead amid the disruptions caused by Covid-19's wake.
Describing herself as a "someone who adapts easily and thrives in challenging environments," she is very much a people person. Her skill-set will see her pushing engagement strategies and partnerships for the association, bringing the SPCA to the fore of public awareness.

Aarthi offers a warm, calming presence to anyone bumping fists with her for the first time. Slim and petite, standing at 1.6m, she is poised and confident, much like the accomplished Classical Indian dancer that she is.
She is no wallflower – that's a given. With her bubbly façade, she wears her strengths and vulnerabilities on her sleeve: She does not have to prove her worth. She can leave it there.
She's not one to poke the bear either. Her ability to direct interactions to calmer waters is a boon in negotiations with the diverse and passionate groups of people she will be dealing with.
New Ways To Solve Old Challenges
In her last role with the PA, she was the Consistency Director in Marsiling. There she was able to hone her outreach strategies and communications skills, as she put in place various processes to support operations.
She enjoyed herself tremendously along the way, adding: "It's great finding new ways to solve old challenges." Bringing a fresh perspective is something the organisation can look for with her.
In her course of work at the PA, she built a strong rapport with volunteer networks and partners at imPAct@Hong Lim Green, the PA's first Specialist Community Club. A firm believer in the power of social action, Aarthi says she "looks forward to working hand-in-hand with animal welfare groups and volunteers to build a more compassionate and safe society for the animals."
Aarthi adds she always wanted to work in animal welfare. Needless to say, when the opportunity presented itself, she jumped headlong into it.
Items on her in tray at the SPCA include – as she puts it: "Strengthening the cause; amplifying the collective voice of the community and, continuing the good work that the association has been doing"
Personal Agenda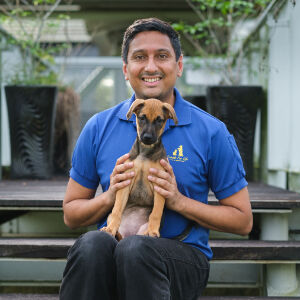 Pets Magazine's Aug 2020 exclusive interview with Jaipal, was titled "All Lives Matter". Now more than ever, he is pushing his personal agenda that all lives truly matter.
For him, it's not just about the welfare of dogs and cats; he believes in advancing the better treatment of all animals, including those in the food and animal testing industries. He says: "Animal welfare should be all-encompassing. The SPCA and ACRES have been working together to improve the welfare of animals used for food."
An area that is of concern to him is the treatment of animals in the food animal space due in part to its sheer scale.
Jaipal cites the 2016 outcry over the use of rabbit fur for accessories such as keychains, and the 2019 one involving a restaurant using a claw machine on live crabs as just some cases of many which drew the ire of an evolving society. It is evident that many in our society stand, with hand on heart, behind the SPCA's motto: Be Kind to Animals.
Challenges Ahead
Back to right here, right now. Jaipal, ever the SPCA steward, tells of the NGO's future challenges: Coping with the disruptions posed by Covid-19, and of funding. He adds: "Funding is always an issue. The main bulk of work we do still needs funds."
The cancellation of Tux for Tails (a benefit gala) last year and this year, and of course Covid-19, has made outreach and funding much more difficult for the humane society.

The organisation will continue its proactive work with its animal sterilisation programmes such as the government funded Trap-Neuter-Release-Manage (TNRM) programme for street dogs. The SPCA will also continue to promote adoption, responsible pet guardianship and provide support for pet parents – all with the aim to "empty our shelters".
Aarthi's goals are aligned with the organisation. Although he is vacating the office, she knows she can rely on Jaipal for his advice and support: "You can take the man out of the SPCA, but you can't take the SPCA out of the man."
While there is a changing of the guard, there is no change in the organisation's aim: to promote kindness and prevent cruelty to animals.
Text By: Eileen Chan
Photography: Hendra Lauw, The Photograph Co
---
A bit about Aarthi Sankar…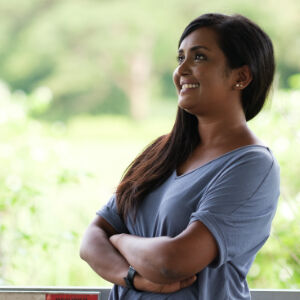 A graduate of the National University of Singapore, majoring in Sociology, Aarthi is currently pursuing her Masters in Advance Research in Social Sciences at Singapore University of Social Sciences.
She is an avid Indian Classical dancer who has been learning since the age of four and gives back to the community by organising weekly pro-bono dance classes.
---
Note from Jaipal: "I'll Be Back"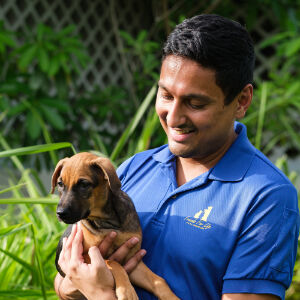 "The six years I served as executive director have flown by and it has truly been a privilege for me to have been a part of such a committed and passionate community.
I would like to sincerely thank everyone who has supported SPCA's animal protection work over the years, be it through volunteering, adopting, donating, or through speaking up on the myriad of animal welfare and cruelty issues we have raised.
We have seen improvements to the state of animal welfare in Singapore and these changes were only possible because of the incredible community of advocates we have here.
Some issues have been tougher to tackle and I understand that it can sometimes be difficult to feel hopeful that change will come. But our collective voice is strong and I have confidence that if we continue with our efforts and work collaboratively, we will see progress made and the future will be a better one for the animals.
This is not goodbye as I intend to continue contributing to the cause and I hope to be able to work with some of you again.
In the meantime, I wish you all the very best."