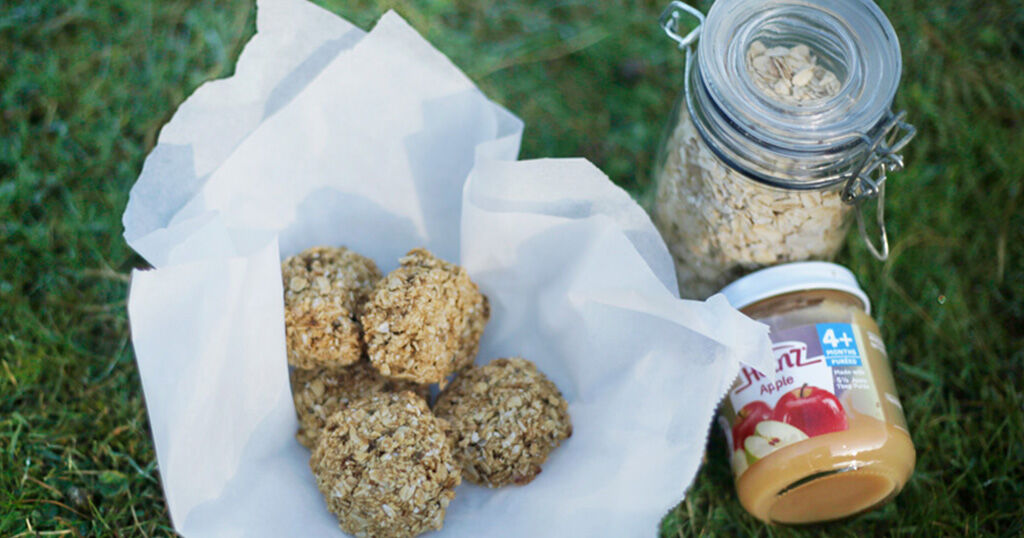 Either you can't be bothered making your own puree or you just want to experiment (like me), you can add baby food to your dog's biscuits ingredients. Just check the labels to make sure there are no harmful ingredients for your dog, e.g. onion/onion powder, artificial preservatives.
Here's an Easy Dog Biscuits with Baby Food Recipe
Makes about 15 – 20 biscuits
Ingredients
2 cups of rolled oats
1/3 cup of desiccated coconut
1 jar of baby food (approx. 110g) of your choice
1 tbs of chia seed gel*
1 tbs of blackstrap molasses
A sprinkle of iodised salt (optional)
* To make chia seed gel, mix chia seeds with lukewarm water and stir. Let it sit for a few minutes and stir again until it thickens. Store the remaining gel in a sealed container and refrigerate.
You can also add herbs into the biscuit mixture. For our biscuit batch, we use apple puree baby food and add a sprinkle of cinnamon. You can add parsley to any vegetables, poultry and/or meat-based baby food.
Instructions
Preheat oven to 175C (or 350F).
In food processor, pulse the oats. Mix the oats with all of the remaining ingredients and shape the mixture to any shapes you like.
Place them on the baking paper and bake for 20 – 25 minutes (or until cooked).
Voila! Easy!
SOURCE
Master Bowie, Riesa Renata
About Riesa and Bowie
Riesa Renata is a trained graphic designer and an avid home cook who loves creating Master Chef meals for her Labrador, Bowie. Their fresh food journey began over 5 years ago when Bowie suffered from multiple digestive issues, and the medications and a vet-recommended prescription kibble diet did not resolve his symptoms.
Riesa then investigated a fresh food diet for Bowie, and after feeding him whole foods, his symptoms gradually subsided and never returned. This experience, combined with her love and strong desire to see Bowie live the healthiest, longest and best life possible, encouraged her to study more about whole foods and dog nutrition.
Riesa completed her Raw Dog Food Nutrition course with Dogs Naturally in April 2020. She believes in the healing power of nutritious whole foods and the holistic approach to supporting our dogs' health and wellbeing. Her e-cookbook, Bowie Drools Over Dumplings, is available for purchase at: MASTER BOWIE