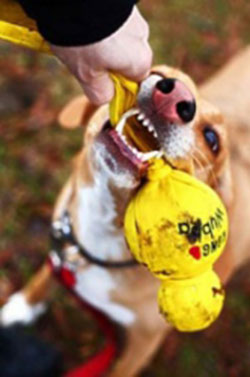 Toys are essential to keep your dog healthy through mental stimulation and physical exercise. However, not all toys are suitable or safe for your dog.
Here are some tips to consider:
Size of the dog
If the toy is too small, it may be swallowed and could choke your dog. If it is too big, your dog may not be able to grab it in its mouth and have much fun.
Material of the toy
Stuffed animals are one of the toys you can give to your dog to play. Make sure to remove any plastic eyes, nose or buttons that can be easily swallowed. Check the label to ensure it is non-toxic, does not break easily or splinter.
Characteristics of your dog
If your dog is a heavy chewer, hard rubber toys and those able to be stuffed with treats are the safest. Take note of toys that have a "squeaker" or whistle – your dog will love to chew up the whistle and eat it. If your dogs enjoy chasing and fetch, Frisbees and small balls will be excellent toys.
Give different toys to your dog at different times so that he will not be bored with the same old toy. Wash them with non-scented soap frequently to keep them clean.
Types of toys
Rope toys - Using a thick piece of rope to play a game of tug of war is a great way to exercise your dog. It also helps to keep his teeth clean. Rope toys are available in all shapes and sizes, with knotted ends. These are good for fetching, wrestling and teething. However, a rope toy should not be given to dogs that love to chew, as loose bits of string or fibre can easily be ingested when chewed apart.
Soft toys - Soft toys are most suitable for gentle dogs that do not chew excessively. Dogs love to play with stuffed animals, toss them around and carry them. As mentioned earlier, foreign objects such as plastic eyes and nose have to be removed from the soft toys before giving them to your dog.
Interactive toys - Hard rubber chew toys and puzzle toys come in a variety of shapes and sizes. Most of them come with a hollow centre and you can fill them with treats for a full day of fun and entertainment! They are extremely durable and can withstand the toughest dog chewers. These are also suitable for dogs of all breeds and sizes.