Rottweiler Risotto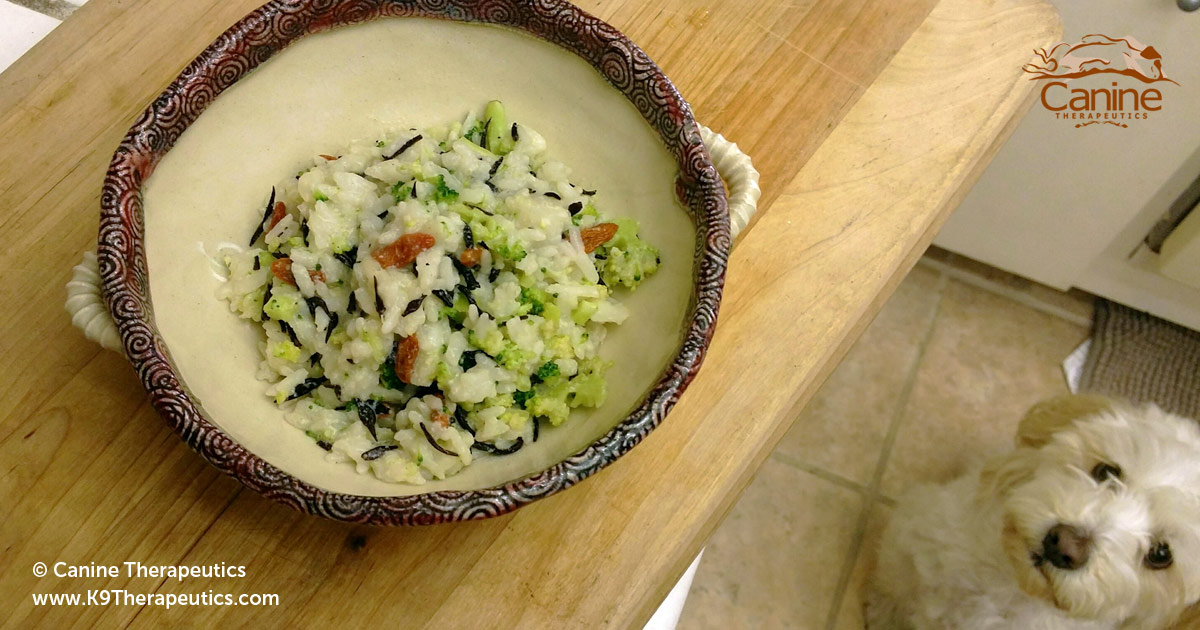 Ingredients:
1 tablespoon olive oil to sauté
1 peeled, finely chopped potato
chopped kale
60g, whole grain rice
60g canned sweet corn (organic)
90g cooked chicken cut into chunks
2 tablespoons of plain yogurt
Sesame oil
Directions:
Heat the olive oil up and sauté the potato until it is translucent. Add the chopped kale. Keep stirring while adding the rice and sweet corn. Add the chicken then stir a bit longer. Reduce the heat to low. Stir for an additional two to three minutes. Mix in the yogurt, reduce the heat to the lowest possible setting.
Cover and let it cook for five more minutes, stirring occasionally. Allow it to cool completely then sprinkle a few drops of sesame oil lightly before serving.
Recipe from: Dancing Dog Blog
Maltese Meatballs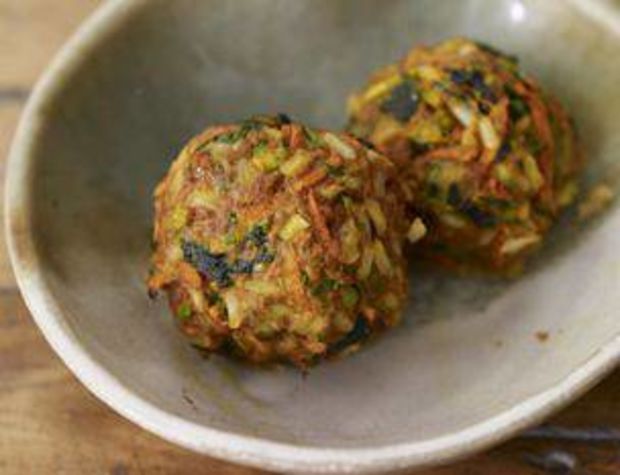 Ingredients:
500g of pound ground beef
½ cup of cooked brown rice
1 carrot, shredded
1 stalk celery, finely chopped
½ cup frozen chopped spinach, thawed and drained
2 tablespoons chopped flat leaf parsley
2 tablespoons shredded parmesan cheese
1 large egg
2 teaspoons ground turmeric
Directions:
Pre-heat oven to 200°C.
Grease a muffin pan or baking sheet. In a medium bowl, combine all the ingredients and mix well. Fill each muffin tin with about ¼ cup of the mixture, or form the mixture into 10 balls and place on a baking sheet. Bake until completely cooked through for about 15 minutes. Leave it to cool on a rack.
Recipe adapted from: Rachel Ray

Samoyed Salmon Sushi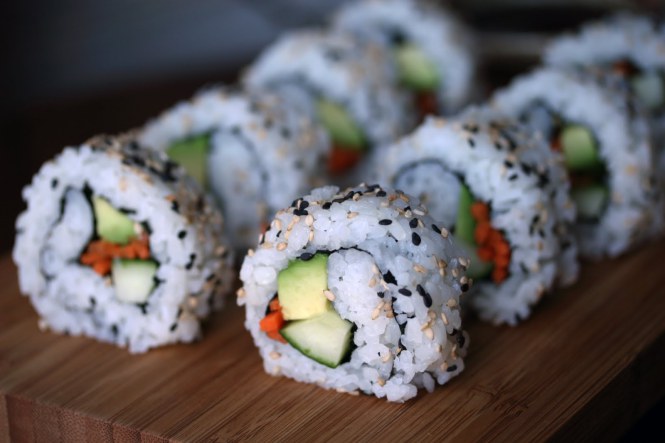 Ingredients:
3 cups of white rice
10 nori (seaweed) sheets
1 cucumber
1 carrot
1 packet of imitation crab meat
Sesame seeds
Directions:
Combine the rice and about 3 ¼ cups of water in a rice cooker and leave it to cook according to the timing given on the rice's packet. Spread the rice. Cover a bamboo sushi mat with a plastic wrap. Place half of the nori sheet on the rough side of the mat.
Moisten your hands and scoop a handful of rice and place it on the nori. Press the rice to spread it evenly to the edges of the nori sheet, moistening your fingers periodically. Sprinkle some sesame seeds.
Wash and prepare the vegetables. Slice them into thin, straw-like slices lengthwise. Slice the strips of imitation crab meat into thin slices and insert a few into the roll.
Add the filling onto the rice. Carefully flip over the nori so the rice is facing downwards on the mat with the short end facing you.
Roll the sushi away from you with your hands, tucking in the vegetables as it rolls along. Remove the mat from under the roll and place is n top. Press the roll into a compact, rectangular log using the mat to help you.
Slice the roll with a sharp knife into bite-sized pieces.
Recipe from: Colin In Chicago

Puppy Pizza
Ingredients:
Crust
415g flour
30g organic corn meal
1 teaspoon baking soda
Toppings
170g tomato paste
20g parmesan cheese
20g mozzarella cheese
225g meat toppings (example, bacon bits, shredded chicken), cooked with a few pinches of Italian seasonings
Directions:
Pre-heat oven to 160°C.
Combine crust ingredients together. Spread them evenly in a pizza pan and bake for about 25 to 30 minutes.
Mix topping ingredients together while the crust is baking and pour over the finished crust.
Put it back into the oven with a heat of 100°C and cook for an additional 10 minutes.
Recipe from: Dancing Dog Blog

Poodle Popsicle
Ingredients:
2 cups of vanilla yogurt (or plain low-fat)
1 mashed, very ripe banana
1 cup of blueberries
2 tablespoons of honey
Directions:
Mix ingredients in a blender until smooth. Pour into an ice cube tray or mould (we recommend using bone or paw shaped ice cub trays/moulds). Freeze for about two hours and voila!
Nice, cold dessert treats for your furkid in sunny Singapore.
If you would like a quick and fuss-free alternative, cut up apples into thin slices and place them in an ice cube tray. Fill the tray with chicken broth and leave it to freeze for two hours.
Picture and recipe from: Sugar The Golden Retriever
---
*This article was updated on 12 Jul 2021. It first appeared in PetsMagazine.com.sg on 25 Sept 2015.