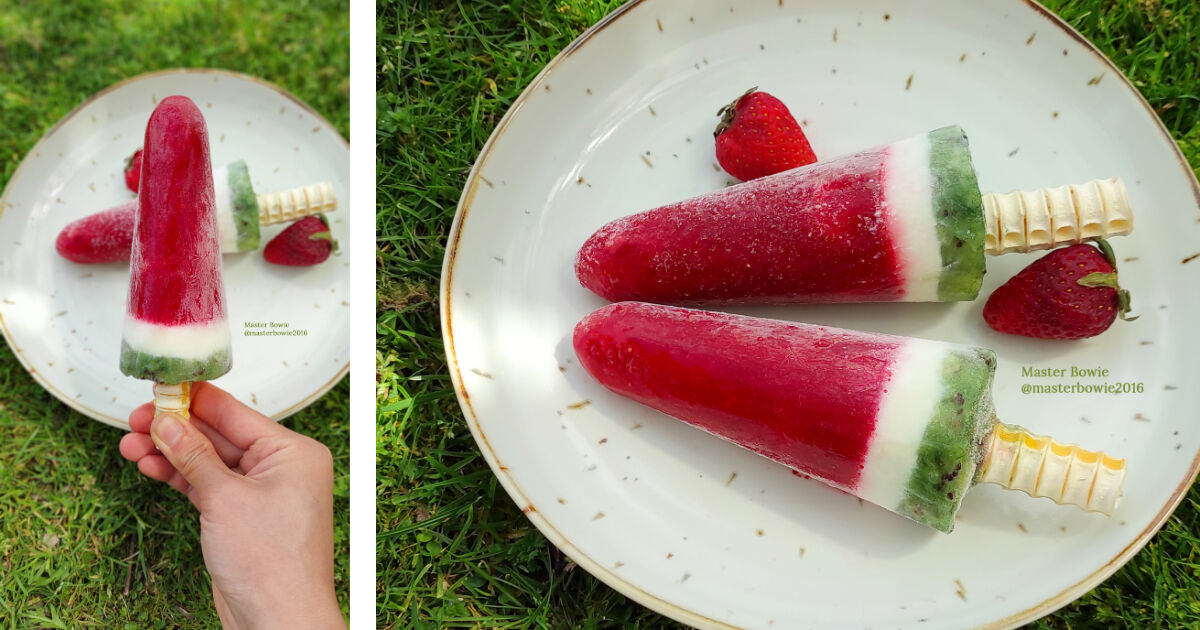 Nothing beats the heat like a delicious, healthy and refreshing icy pole.
Bowie's Christmas-themed icy poles are loaded with antioxidants, vitamins and minerals essential for maintaining our dog's healthy immune system.
Have I mentioned that they are also very easy to make? Bowie's icy pole is also perfect for keeping your pooch entertained and dehydrated during those hot days.
If you don't have icy pole moulds, you can use plastic champagne flutes instead.
Please note that you should always introduce new food slowly in small quantities and monitor. If you are unsure of the ingredients, consult your vet or pet nutritionist first.
INGREDIENTS
For the Red section, you will need:
- ½ punnet of fresh strawberries
- 1 tablespoon of honey
- Bone broth (optional) to make it more palatable for your dog
For the White section, you will need:
-Natural greek yoghurt
For the Green section, you will need:
- 1 kiwifruit
- A pinch of green spirulina powder
For the icy pole stick, you will need:
- Dehydrated shark cartilage
DIRECTIONS
1. Blend the ingredients for the red section in a blender.
2. Pour into the icy pole moulds or plastic champagne flutes, and freeze until the top surface is frozen.
3. Top with natural greek yoghurt and put back in the freezer.
4. Meanwhile, mash the kiwifruit and mix well with the spirulina powder.
5. When the yoghurt is semi-frozen, top with the kiwifruit mixture and insert the dehydrated shark cartilage in the centre.
6. Put back in the freezer until all is fully frozen.
7. If you use a plastic champagne flute, you can dip it in the warm water to de-mould the icy pole.
8. Serve it hand-held for best results!
By: Riesa Renata
---
About The Author…
Riesa Renata is from Melbourne, Australia, and together with her furry sidekick, Bowie, created Master Bowie, a recipe book specially for dog lovers around the world.
She's a graphic designer and digital producer by trade, a legit dog lover, and wonderful cook to boot! Mum to Bowie, she credits her cheeky Labrador for all her inspirations under Master Bowie enterprise.
Her e-cookbook, Bowie Drools Over Dumplings, is available for purchase at: MASTER BOWIE