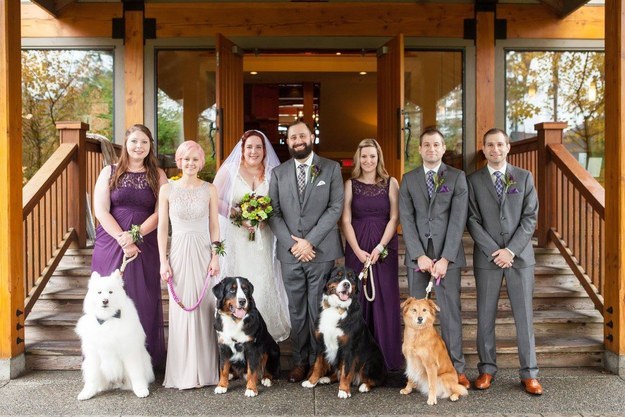 It's only natural for pet owners to want to seek the approval of their furkids when it comes to important decisions like choosing a life partner. Lucky for Canadian dog lover, Shandess Griffin, she didn't have to do the "work": It was her pups that brought her and her now husband, Jason Griffin, together.
For Shandess and Jason, it was always going to be a furkid-friendly wedding. After all, their four dogs — Zero, Holden, Arboor, and Navi — are a significant part of their everyday lives.
They're either hiking with the hounds, or photographing them for Shandess' Instagram account (@shandandherdogs), which has over 2,000 followers.
It seems a little crazy, but it's really not surprising when you think about the fact that it was actually Zero (the Samoyed) and Holden (the Bernese Mountain Dog) that brought the two together.
Shandess only replied to Jason's message on a dating site because he said he wanted to walk her two dogs with her. "He was excellent with them immediately; he knew the breeds and everything. And they loved him right away, so I said 'Okay, he's a keeper'," she said.
Half a year into their relationship, she successfully convinced Jason to adopt Navi (an Australian Shepherd cross) and subsequently, they adopted Arbor (another Bernese Mountain Dog) as a couple.
"My dogs are my babies. They come to work with me, they're my life. When Jason came along, he changed everything. I was finally able to trust someone else with my dogs," Shandess said.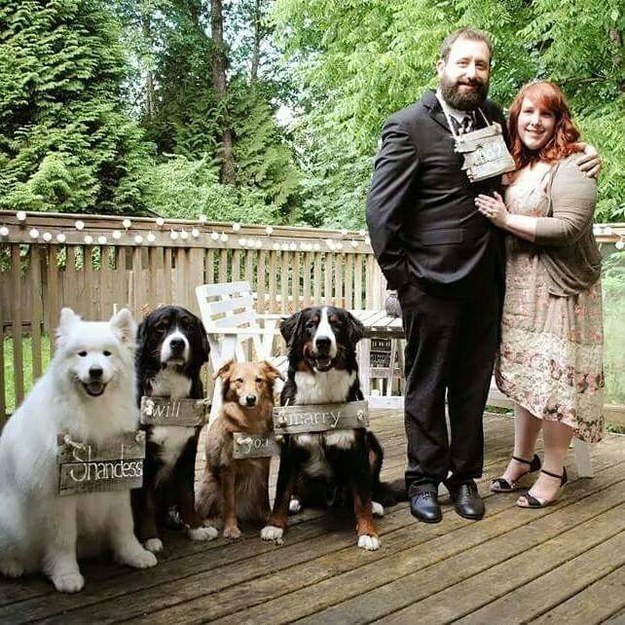 When it was finally time to go down on one knee in June last year, naturally Jason decided to employ the help of the fur-mily's canine crew. Who could say "no" to all those puppy dog eyes?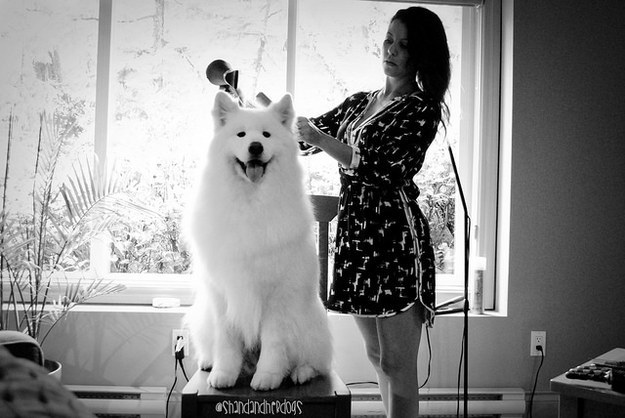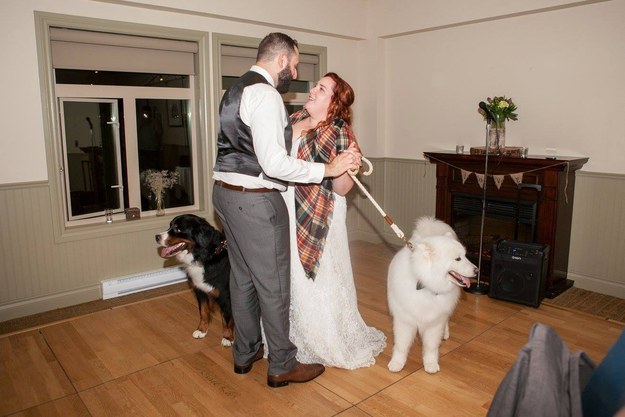 For their beach wedding on 19 September, there was a furry bridal party where all four furkids got pampered and wore bowties handmade by Shandess' best friend. It was planned for the pups to escort Shandess' bridesmaids down the aisle during the ceremony, but because of the downpour, the wedding had to be moved indoors.
The wedding venue, Long beach Lodge Resort in Tofino, British Columbia, loved all four Fidos as much as the couple, so they made an exception to their no-dogs rule and let the well-behaved furkids roam freely through the night. Zero and Holden even joined Shandess and Jason for their first dance as a wedded couple.
---
*This article was updated on 2 Jul 2021. It first appeared in PetsMagazine.com.sg on 16 Nov 2015.