JOYCE LEW, 29, treasury executive
CARAMEL, 4, Silky Terrier (mother)
CHOCO, 3, Silky Terrier (son)
Caramel's pregnancy was unplanned. The pooch had always been tubby, so no one in Joyce Lew's household thought much of her weight gain or suspected that their mischievous furkid was about to become a mother till they woke up one morning to a surprise litter of three Silky Terrier puppies!
"The vet had told us that Hazelnut, our male Silky Terrier that we've since given to a friend, was infertile, so no one expected him to impregnate Caramel. Plus, she's always been a big girl, so we couldn't tell she was pregnant," says Joyce with a sheepish laugh.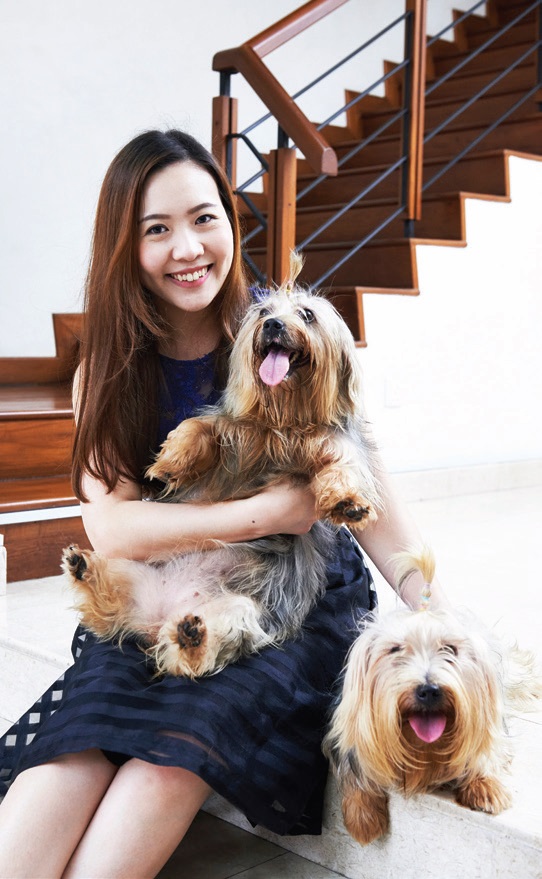 How do Caramel and Choco behave around each other?
They are more like friends than mother and son, and they fight occasionally as well. The squabbles are usually caused by Caramel's food obsession, which makes her quite aggressive, even towards Choco.
She also loves to be around humans more than dogs, while Choco is friendly with other pooches as well.
How did you react to the sudden new additions?
We were quite shocked! Since we had no idea Caramel was pregnant, no preparations were made beforehand.
I immediately called the vet to find out what sort of aftercare the puppies needed, such as when they could take a bath, and how to tell if their mother was feeding them adequately.
If there wasn't a restriction on the number of dogs you can own, would you have kept all of them?
When Caramel gave birth to the three puppies, I was busy with work and did not have time to train them. Some ended up being quite mischievous and barked a lot.
If they behaved well, I'd have loved to keep them all. Then again, it's also tough to give every single one my full attention and love.
---
*This article was updated on 18 Nov 2020. It first appeared in PetsMagazine.com.sg on 9 Jun 2016.