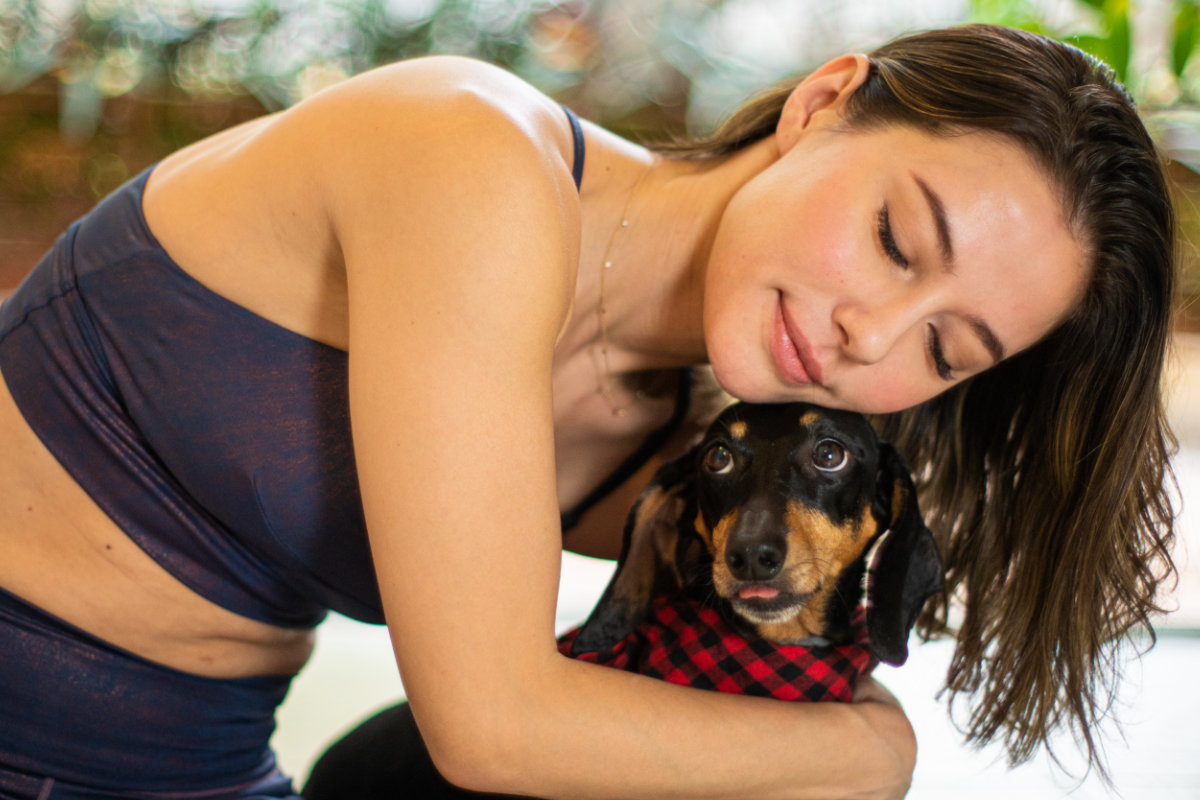 She's known as an international travel host, director and producer, recognised for her work as a host on Discovery Channel, TLC and MTV. With accolades a mile long, Denise Keller, 38, remains one of Singapore's most sought-after event and TV media presenters.
First, it was Denise's megawatt smile that brought her to the forefront of the world's attention. After clinching Ford's Supermodel of the World finals in 2000, the world was her veritable oyster. From a successful modelling career, she went on to hosting on MTV. Then this powerhouse carried on to wow the world with her adventure series in TLC and the Discovery Channel travel shows.
Now, this veteran of the world's stage brings her wealth of experience, wit and enthusiasm as an Ambassador, and ardent supporter of Save Our Street Dogs (SOSD), a volunteer-run organisation dedicated to the welfare of our street dogs.
At home in Upper Bukit Timah, surrounded by a menagerie of animals, she is using her infectious energy to draw attention to the plight of the less fortunate dogs in Singapore.
Besides her love of animals, Denise is all about yoga. A practitioner of the regiment since 15, she's gone to be a qualified Hatha Yoga instructor. Says Denise: "Yoga has remained the one constant thing in my life. It gave me focus and concentration during my TV days. Whenever I felt anxious before the camera rolled, I would find a quiet spot and do some breathing exercises."
The Tipping Point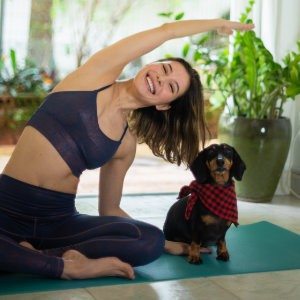 Yoga has done much for her and serves to recharge her. "I meditate every day as it helps me focus, and I do breathing exercises. It gets me through my day. I would highly recommend this to anyone who, like me, can't sit still."
Her love affair with yoga took off as she sought to "soothe my inner side, especially since the job was stressful". Incidences during the Discovery Channel filming of Expedition X: Silk Road Rising in 2016 took a toll on her, both physically and emotionally.
The adventure which took her along the fabled Silk Road from Istanbul to Xian, China, proved a life-altering experience for Denise. "We were shooting in winter and, with the rugged and rough terrain, accidents do happen." The perilous route from China to Istanbul, Turkey, was not for the faint of heart.
"It was the tipping point in my career. I could feel the stress level rising steadily. I knew then; I wanted to create and manage my own content and find my own way forward. Yoga of course was part of this journey."
During her decade of work with TLC and Discovery Channel, she credits yoga for keeping her centred through her career. It is through mindfulness, a form of meditative awareness in yoga, that she soon saw her world evolve.
Family Members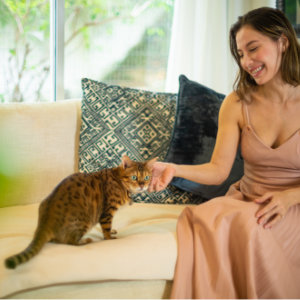 More settled now and surrounded by an ever-growing brood of animals, she says: "They ground me, heal me and love me unconditionally. I would adopt more animals if I could, but I have been told that I can't keep collecting animals like people collect stamps."
Presently fostering two cats at home in Upper Bukit Timah, she has also, a standard Dachshund that goes by the name of Ziggy; a 16-year old short-haired Exotic Persian called Anouk, plus a very, very, lively eight-year-old Bengal cat.
Her adoption trail started in her early days while working for MTV. Feeling lonely and despondent, a very young Denise went looking for companionship in a pet shop. There she found Anouk, a scraggy kitty dumped by its owner, in front of a pet store. Describing herself as "more of a dog-person than a cat-person", she says the cat had an "Ewok-squawk", and the "odd fella seemed to be attached to my ankle!"
The kindly store lady gave Denise 24-hours "to try-out the cat", suffice to say the ploy worked, and the cat stuck with her ever since then. A year later, Ayala, a Chinchilla Persian and companion cat for Anouk, came to live with them. "These two became my family. They slept and ate alongside me," says Denise. Sadly, Ayala passed away last year from Cancer.
After her marriage to Robert in 2015 and move back to Singapore, "it was time to slow down and find a balance between work and my passion for wellness and animals," she says. By then she had spent a wanderlust decade in front of the camera for TLC and Discovery Channel.
Hubby and her share a love of travel, collecting antiques and old posters, and yes, cats! His was a spritely Bengal cat named Neko. Besides the three cats in the house, there's Ziggy, a stunning looking Dachshund. The dog was a case of "accidental adoption" when her sister brought in two puppies.
Making Tails Wag
Nicely settled down in a quiet neighbourhood doesn't mean all's quiet with Denise. During her walks around the area, the sight of animals being dumped in Bukit Timah Park made her "blood boil." "People were dumping cats, and I want to do something about that," she says. Her vet connected Denise with Dr Siew Tuck Wah, President of SOSD, and, "that's when I started to take SOSD and the work they do seriously."
Where once she offered her services as event host for the SOSD Charity Dinners, the doggedness of Covid-19 put paid to that; along with all other fundraising activity and adoption drives. The cancellation of the event did not dampen her enthusiasm; it only produced another channel to exert her creativity.
Denise, a fully qualified Hatha Yoga instructor in her own right, found that she could still contribute – in the virtual world. She's offering her services for online yoga classes to raise the much-needed funds for SOSD. Yes, she's bent on keeping those tails wagging happily.
As an ambassador for the organisation, she gets up and goes whenever an opportunity avails itself. With the year-end gift-giving season coming up, the message of "Mindfulness" seems most appropriate. "Animals are part of the family. Your pets will evolve and change through time. Think it through – before buying or even adopting a cat or a dog. Be mindful, they may be cute now, but it's another thing when they grow old," she says.
Being Mindful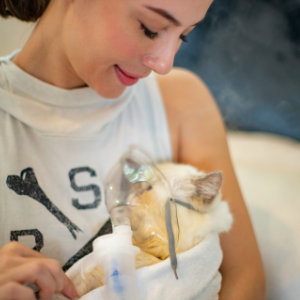 Denise drives the message home as she nurses the 16-year-old Anouk with a Nebuliser in hand. The senior cat needs to use the apparatus five to eight times per day to help her breathe.
She describes "mindfulness" as an essential aspect of the physical practice of yoga. Considered a form of meditation, it helps practitioners stay centred throughout their journey in life.
With her innate sense of style, her upbeat personality, and her zest for life, Denise with hubby, recently launched a content production house in Singapore called KellerMedia. The focus? Besides travel, hospitality and lifestyle; wellness is there too.
While her adventures may carry her to distant places in the not too distant future, Denise plans to stay the course, stay centred on things that matter most to her: yoga and of course, animal welfare.
Photos: Ryan Peters, Keller Media
---
SOSD:
Donate & Make A Difference!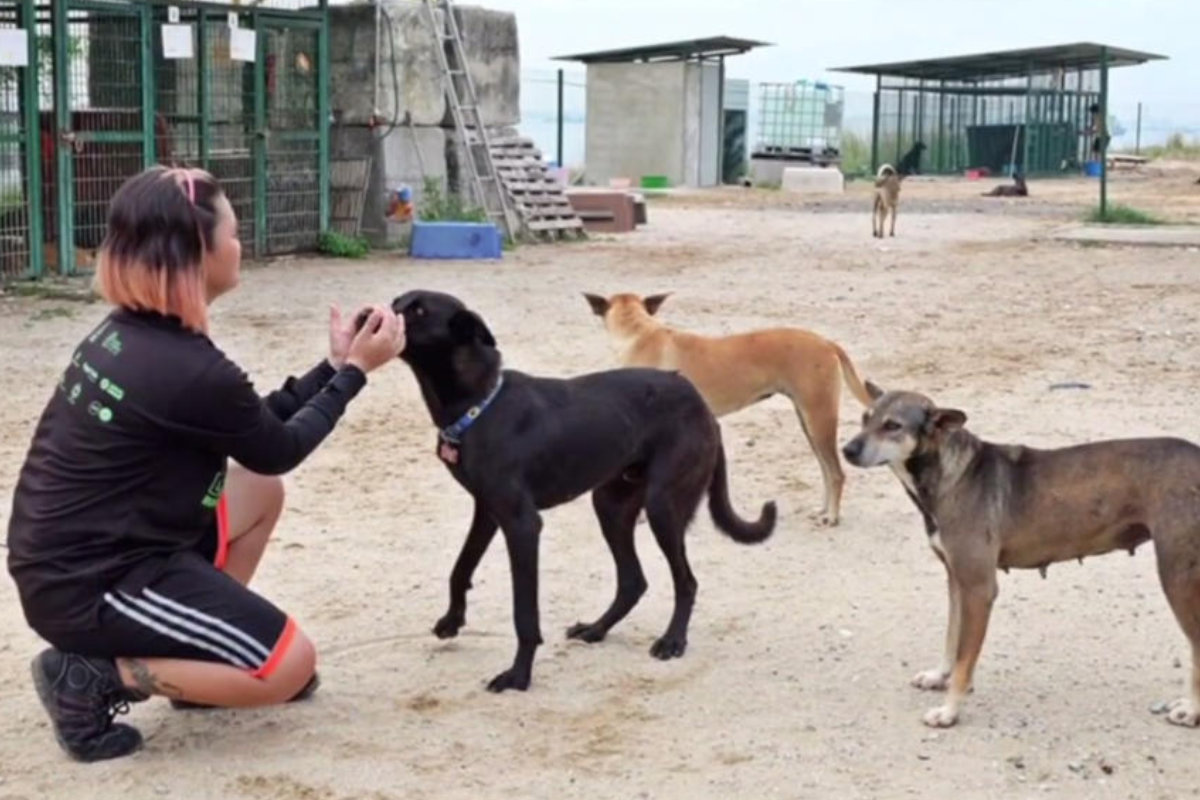 SOSD (formerly Save Our Street Dogs) is a volunteer-run organisation dedicated to the welfare of Singapore's many street dogs. It is an independent animal welfare organisation not funded by the government.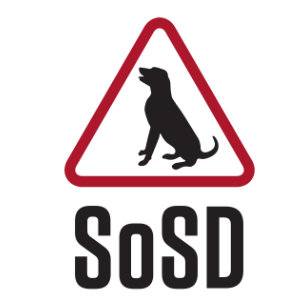 The independent animal welfare organisation's mission is to eliminate cruelty to and abandonment of animals. They depend solely on the public's generosity to help fund rescue, rehabilitation, and re-homing operations, to support the SOSD shelter at Sungei Tengah and Jurong Island, Trap-Neuter-Rehome/Release-programme, Dog Foster programme and Education and Outreach efforts, as well as administration and operations costs.
Your generosity will provide a better life for more than 500 dogs under its care.
To donate, click here: SOSD