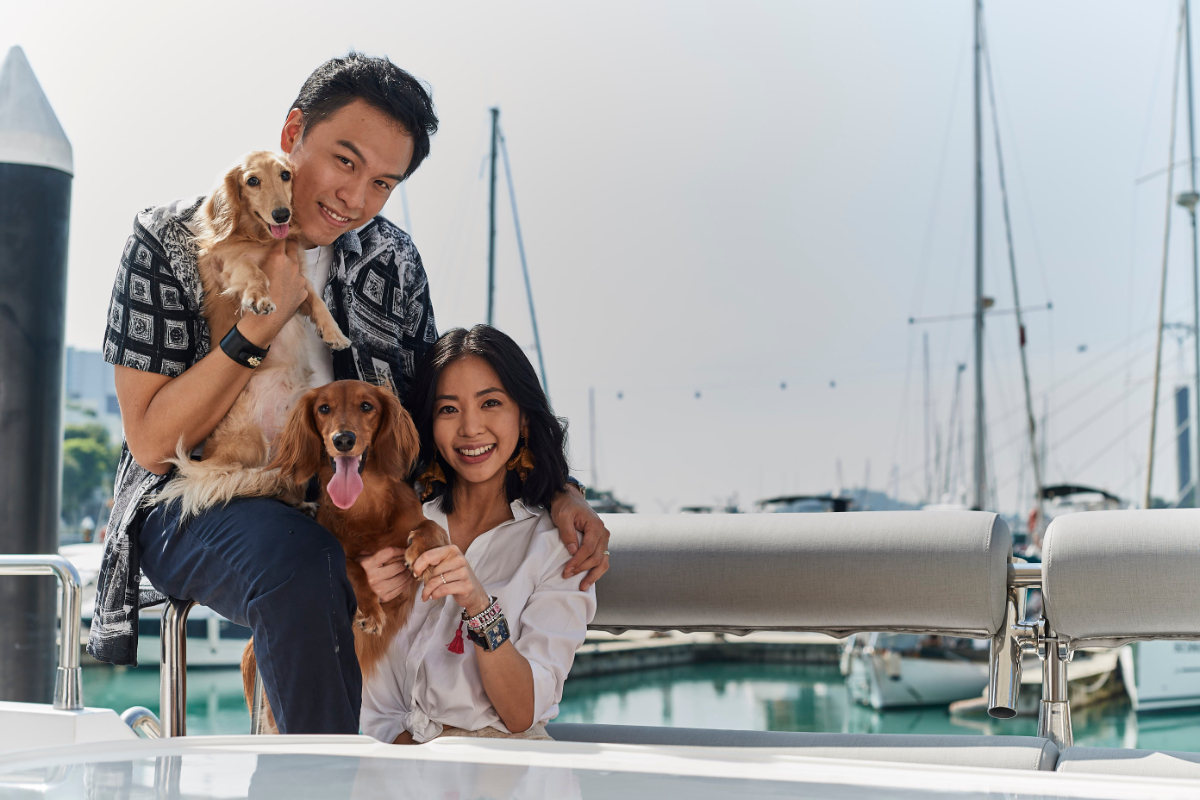 Getting a dog for the first time is not an easy task, more so when they are rescued dogs – as they often come with their own baggage. Ask Jon and Amanda; they know all too well what it entails.
They are celebrities in their own right who just got married and are charting their path in life together as a couple. He is Jon Chua, 31, CEO of Record Label & Music Agency, Zendyll Music and founding member of a multi-platinum band, The Sam Willows. A local boy who made good in the entertainment world and is a sought after brand ambassador for companies like Audi, Hugo, Adidas, etc.
She is Amanda Chaang, also 31, a tv presenter from Malaysia (formerly with Astro SuperSport TV), lively hostess for events and campaigns for brands like AIA and Tag Heuer. They were married in late June 2018 and their family unit presently includes two adopted long-haired Dachshunds: Chilli, 3 and Salsa, three-and-a-half.
While they are busy with their own schedules, they have both devoted time and energy in giving a voice to the voiceless – bringing the plight of homeless dogs to the forefront. With their combined experience as paw-rents to Chilli and Salsa, they basically can write a book on "Adopting a Rescue Dog: What You Should Know".
Before You Get a Dog…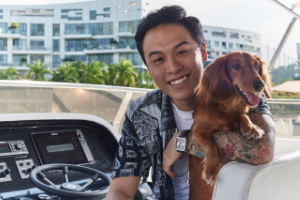 Making a decision to get a dog shouldn't be an impulsive choice. Both Jon and Amanda knew the implications of committing to dog ownership before the ink dried on the adoption papers.
Amanda grew up surrounded by canines, felines and an accoutrement of other pets, it was an easy decision to make when it came to adopting a dog. "I grew up with dogs my whole life" says Amanda. Her family members back in Kuala Lumpur, Malaysia, all shared the same innate love for the less fortunate animals – even the household dog was retrieved from the pound.
The effervescent Amanda has a penchant for 'sausage dogs': "I grew up with Dachshunds – my father and other relatives adored them, so that stuck."
Jon got his first dog when he was around 22. "I got bitten by a dog when young and mum was scared of them," so no dogs then. However, when he moved from his family home, he promptly got a dog as he felt "it was the right place and right time then."
He took to Allie, a Shetland Sheepdog that put up for sale by an animal farm at Pasir Ris. She was originally put up for sale, but after 13 months and no buyers, she was put up for adoption. When Jon got her, she was already fully grown.
Fast forward to the present: Both Jon and Amanda had wanted a dog for some time and during a photoshoot session a just couple of years back, with "five or six Corgis" on the set, a friend texted in. He says: "There was a long-haired Dachshund in Joo Chiat area, and we were on a 'dog-high' from of the shoot. Besides that, we have been discussing this topic (of getting a dog) for a while already."
A bubbly Amanda adds: "We went to Joo Chiat, saw Chilli and we fell in love straight away!" While Jon notes that Chilli tends to bark more. Amanda puts it to a case of "manja" – very needy. "She's very welcoming, too friendly at times, but I am OK with it," says Amanda.
Do Your Research First…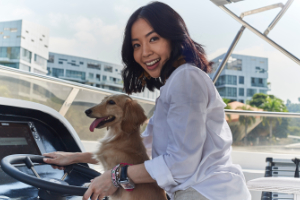 Before getting a dog, you need to consider if you can take care of them – more so, if they are rescued dogs.
A much-wanted companion for Chilli opened their home to Salsa. She came in via a heart wrenching route. Sometime in October last year, Derrick from Voices For Animals had a total of seven dogs up for adoption.
They responded to Derrick's plea on Facebook and picked Salsa with her shy but endearing looks. The story goes that Salsa was de-barked when she was brought in from Taiwan by a breeder. After a few litters, she was finally given up for adoption as she was deemed too small and not well suited for the money-making purpose.
"Oh, she was in a bad condition," said Jon. They promptly brought her to the vet and there got her teeth cleaned, neutered, and had her nipples removed surgically (the vet recommended this due to her condition). But that was not the end. She developed a hernia and had to go under the knife soon after.
All Jon and Amanda could do for Salsa, in her inital weeks with them, was sit by her side and molly-coddle her. She was not interested in anything and was not incentivised by food either. However, things took a turn for the better as Salsa finally came around. She learnt fast – thanks to a charming Chilli.
While Chilli made the training process easier, it was nonetheless still a struggle with Salsa. Good friends like Eli Atias, the K9 dogtrainer and author, came around to help with the process. On training rescued dogs, Jon says: "It teaches us a lot of patience – you need to have patience for sure!"
Besides patience, a whole lot of time and effort is required. With the restrictions imposed by the pandemic, Jon found it be "a blessing in disguise as we both now had time to train her."
It's Not All Fun & Games…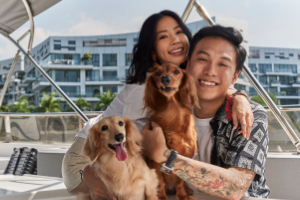 You might be crazy about dogs, but playing with them and looking after one is a whole different ballgame. They do demand a lot of time and energy from you.
Jon notes that Chilli is very intelligent. "We had to potty train her and she did it on the first day home. Everyone who was there clapped for her – Nathan (Hartono) was there too."
Before the restrictions were imposed, Jon's brother-in-law chipped in as one part of a reserve team – when they travelling, or had gigs on hand at attend to.
Regular visits to the vets is recommended for all dogs. More so for the pair of Dachshunds, as areas of concern revolve around their elongated backbones and diet (especially for Salsa given her background prior to adoption). Appointments with the groomers are also penned in with regularity.
While both eat the same food, Jon remarks that Chilli is more demanding. "Salsa is a very simple dog – very chill", he adds. Foodwise, the couple gets prepared fresh frozen dog food, all well portioned and of human-food grade. "It's a mix with kibbles for their daily meals. There's salmon oil every morning to improve the fur," says Jon.
Sharing The Chores...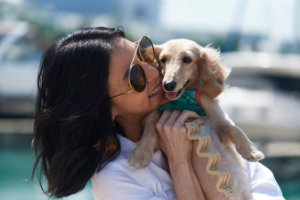 The couple share responsibilities and duties on daily basis that includes feeding and appointments. Bedtime sees Jon creeping up to bed with Salsa as Amanda is already curled up with Chilli.
When it comes to walks, both Jon and Amanda put them their paces with walks around the neighbourhood, along the East Coast Park or over at Ang Mo Kio. Even when at work, the couple carry on their duties with the dogs in tow – if possible.
Jon's winsome smile is on at max when he talks about his "Studio Dogs" at his side during recording sessions. "They get pretty excited initially, saying their hi's to everyone at the studio – then they chill."
If You Intend To Adopt…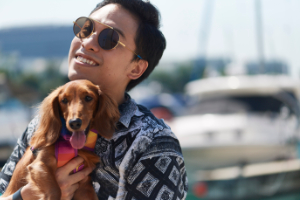 Jon asserts "The person must genuinely love dogs and have lots of patience." His testimony is borne from experience caring for the two dogs.
He follows the Voices For Animals (VFA) group on Facebook and recommends them highly. "If you have friends who want a dog, check out the VFA." He does a shout-out for Derrick and the VFA group, noting that the organisation is well run and well maintained. "They ask all the right questions".
Jon says after a while watching Derrick at work for the VFA, he notes that Derrick knows who's genuine (in adopting) just from their body language. "He's doing a very thorough job, processing all those applicants. His social media approach hits the right notes, especially among the younger generation of couples just starting out with their own place."
He also adds there are many influencers, entertainers out there that are open to the idea of dog ownership.
Spread The Word…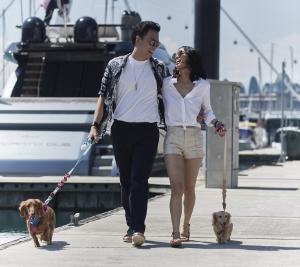 Pet ownership should start from a young age, advocates Amanda. "It's best to teach children how to approach dogs and cats; pat them and care for them at an early age." Kindness and compassion will follow to that end.
In addition, a supportive culture and a dog-friendly environment where dogs are welcomed almost everywhere. "It has to be a community driven thing" she adds.
Jon concurs and would like to see more pet-friendly food and beverage as well as entertainment outlets. "Places have to start opening up here in Singapore. Exposing others to animals in public spaces would help develop a more pet-conscious Singapore."
Text: Eileen Chan
Photography: Aaron Wong
Make Up: Sha Shamsi using Gucci
Hair: Fadli Rahman using Keune
---
*This article can be found in the June 2021 issue of Pets Magazine.