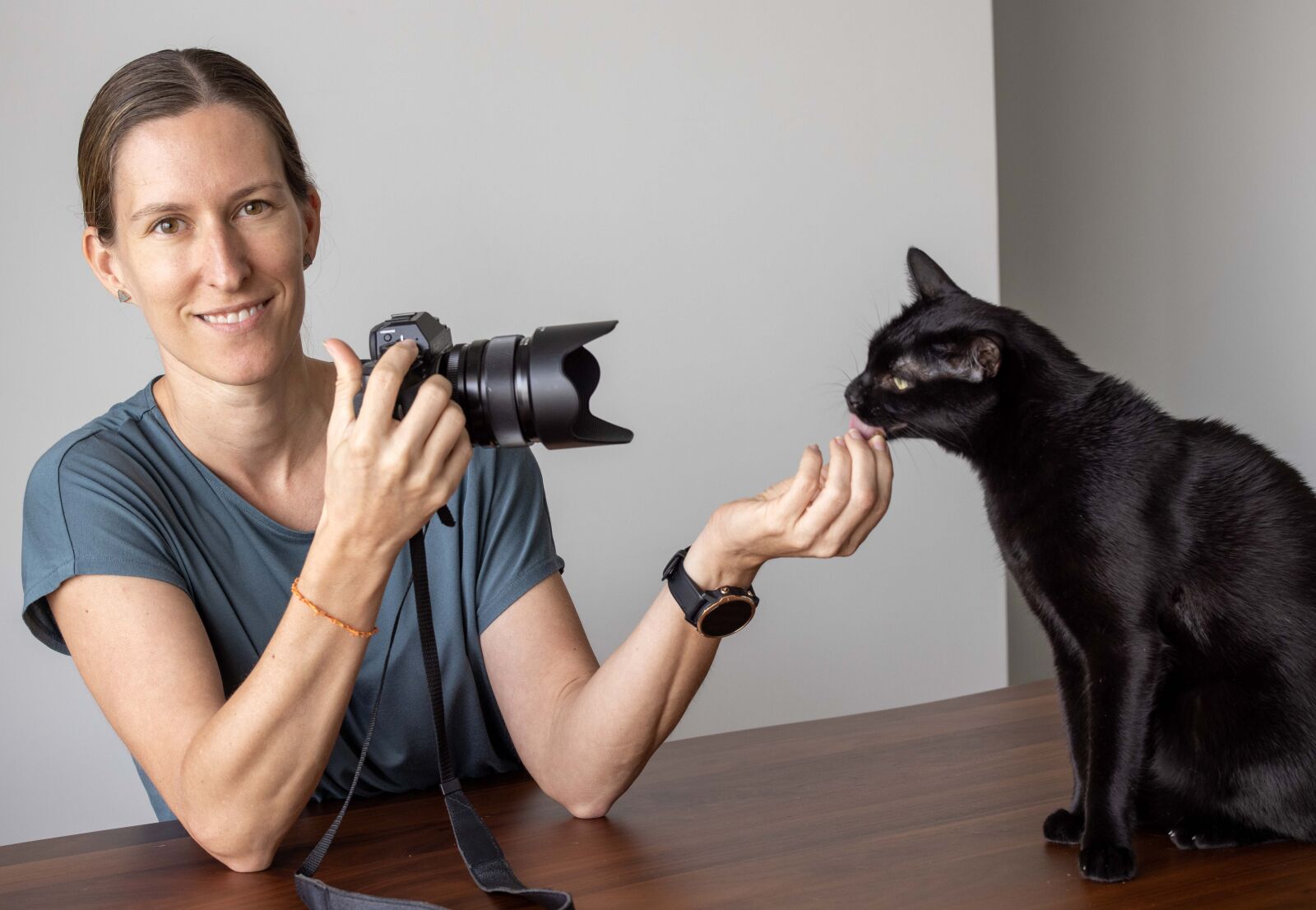 "The best camera is the one you have with you" – a motto that definitely applies to taking great pictures of your feline friend! And today, we all have great cameras on our phones!
But what makes a picture look really great and show your kitty in the spotlight she deserves?
Plan Ahead
First of all, plan your own little photo session with your fur baby. Tidy up your place, so you have a clutter free background for your shots. Then, have a look at kitty and check that her eyes and ears have been cleaned or gently wiped them with a soft cloth.
NO

YES

Tidy up your place before taking pictures

To finish it off, give them a little brush to get rid of dust and smoothen their fur. Don't forget to reward this with treats!
Ideally, get a friend that is familiar with your cat to help you during your photo session! While you take pictures, your "assistant" can help you direct your kitty's attention by using treats (and quickly removing them) or waving a wand toy over the camera.
They can also help place your cat back onto the "spotlight" that you chose for your session. Another trick to get a kitty's attention is making funny sounds… squeak, whistle, smacks… anything that she hasn't heard before and will make her look at you!
Attention
• If possible, get a partner to help
• Wave a wand toy near your camera
• Make unusually, squeaky sounds
• Use treats
Get kitty's attention

Au Naturel
To get natural looking pictures, avoid using your flash! Instead, take the pictures on bright day, when lots of natural light is available.
You can place your cat near the window, while placing yourself with your back facing the window. Side view may work as well, but never shoot against the light unless you want a silhouette!
NO

YES

Never shoot against the light unless you want a silhouette

• Use natural light!
• Take pictures near a window
• Do this on a sunny day when it's bright
• Make sure the window is behind you or at the side

Get physical!
The best is to get on eye level and throw yourself on the floor! Or place kitty on a couch/table so you can shoot from their perspective at eye level.
• Eye Level: Throw yourself on the floor
• Or get on eye level with the cat by placing it on a couch or table.
Also, try and show special connections your kitty has with people: sit them in someone's lap while being pet, have them look at you or snuggle them.
NO

YES

The best is to get on eye level and throw yourself on the floor!

Get Technical
The portrait function on your phone can make your picture look more "snappy" by blurring the background and only leaving your subject in focus. Play around with this function (iPhone: change the F value, Samsung: use Blur or Big Circle).
Spend a little time on "post production". Crop away distracting background or change the values/styles used in portrait function to find your desired effect. Avoid applying too many filters, but play with exposure/brightness/contrast to enhance your portrait!
With a little bit of planning and a lot of patience, treats and love you can get great pictures. You can even start with sleeping kittens by placing them in their basket in a sunny spot.
• iPhone: Use portrait function
• Click edit
• Change F value (1.4, 4.5, 11)
• Select Blur or Big Circle
• Edit: Can change effect
Have Patience
Lastly, when shooting, take a lot of snaps of the same moment – then pick your favorite one! You might not even be aware of a funny face or yawn they pulled at any moment!
Most of all make your photos a positive experience with lots of praise, rewards, toys and treats. If you kitty is not in the mood, simply do it another day!
Connection
• Hold the kitten in your arms/hands
• Pet it
• Show interaction
| | |
| --- | --- |
| Show interaction | Pet it |
Text & Photos by: Kerstin Schulze
---
About Kerstin And Project LUNI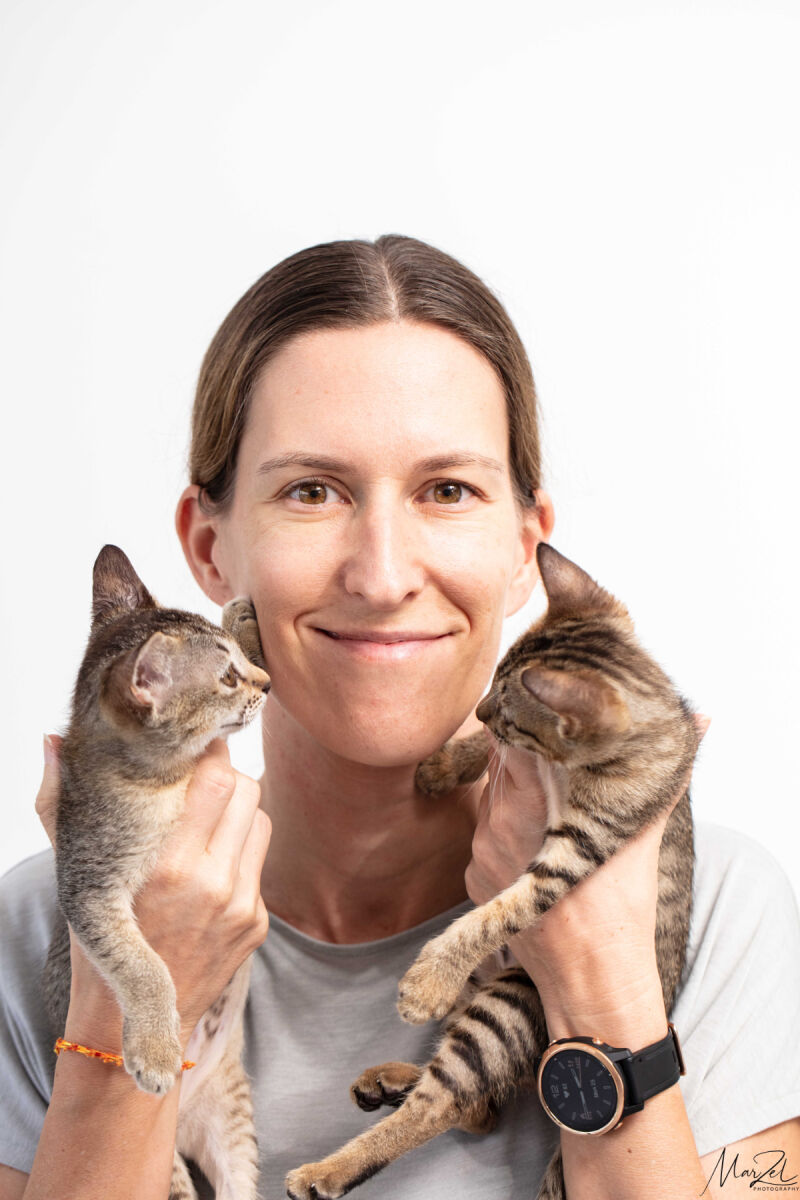 Kerstin is a German photographer who managed to combine her love for animals and photography and specialized in pet family portraits.
In 2018 she started volunteering for Project LUNI and has since taken hundreds of adoption pictures for tiny kittens and street cats. She also co-manages Project LUNI's foster programme which helps to find Singapore's street cats and kittens their forever homes (in 2021 already over 250 cats have been rescued).
Since circuit breaker 2020 Kerstin's own rescue cats Marvin and Zelda have also helped to raise and rehome 17 kittens! To further her knowledge, Kerstin is currently doing her Cert 3 in veterinary nursing.
Although Kerstin mainly works with cats, she also feels a strong connection to dogs and other animals – she has also done dog calendar shoots and would love to "shoot" bunnies or other animals any day.
While others say "never work with kids and animals", Kerstin loves taking on those challenges. Her sessions usually take place in people's homes or their favourite outdoor places and she loves patiently getting to know the animals and their pawrent to ensure they feel comfortable with a camera and will show their natural selves in the pictures.
MARZEL PHOTOGRAPHY
​​​​​​​Web: www.marzel-photography.com
Instagram: @marzelphotos
Project LUNI
Website: https://www.project-luni.com
Instagram: @project_luni