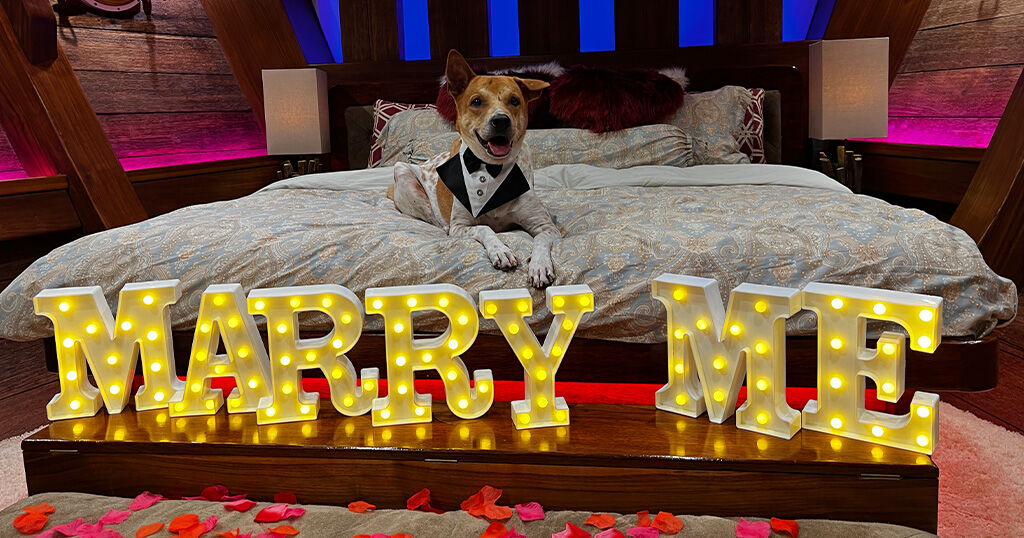 "WOOOF! Today is Dog Cruise Day… and I cannot believe it has been more than a year since I first sailed on-board the Royal Albatross on the World's First Dog Cruise! I have been trying to get mum to take me sailing on every dog cruise so it's no wonder I haven't seen my waistline for 12 months!
The Royal Albatross is berthed at Resorts World Sentosa (RWS). You get quite a nice walk from the car park or taxi drop off, sniffing the pillars all the way to the ship which is opposite the SEA Aquarium. It's worth noting they sail only on certain days for us doggies - most Saturday mornings for breakfast and the last Friday of the month for dinner.
Sail away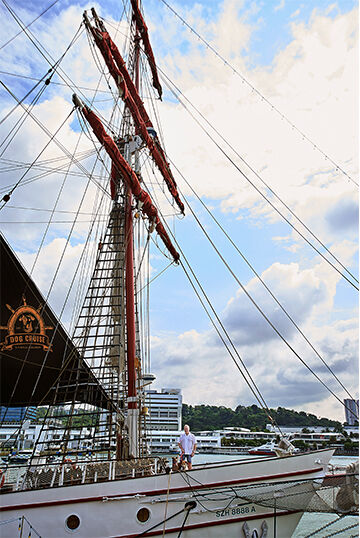 Royal Albatross is super huge, clean (I am very OCD with my fur coat) and luxurious! Don't worry doggies, we are very high above the water (which is good) as I too, hate getting my paws wet. The ship is super stable, I haven't seen any doggies getting seasick if that is what you are wondering – and they already had almost 900 doggies sail now! Sailing on a tall ship with open decks, enjoying the gentle motion and the sound of waves, gives me a nice feeling. Especially the cool sea breeze when it blows over my fur coat - it's really relaxing. The humans tend to be very calm - it must be the natural sea remedy and it makes us relaxed too. So far, the days I have sailed have been really nice and breezy with beautiful morning sunrises or sunsets. Even if it rains, they always keep us doggies dry with shelters and even an air-con room if we prefer; but I prefer to have wind in my ears and watch all the food being served.
Dining with humans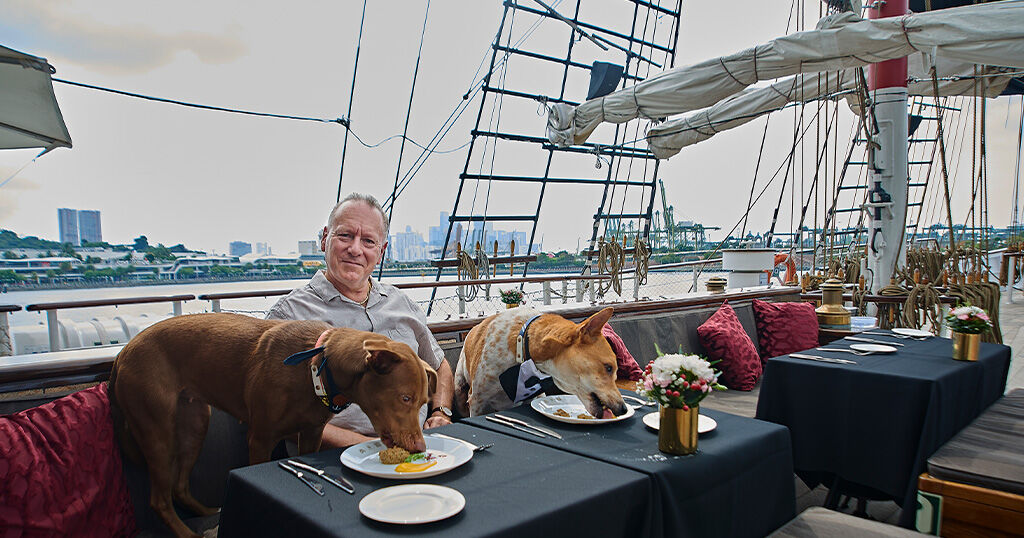 Which brings me to the main and best part… you get to sit with your pawrents on a dining chair and that means FOOD!!! I have a large bum so I sit on a real chair; but most of my fellow furkids get to sit on a baby chair! All doggies have a 3 course meal prepared by the Chef, kindly sponsored by PetCubes! Before we sail, our pawrents choose a protein for us (Chicken, Beef or Duck). On the day, the meals are served by a waiter to my table and they are very nicely presented. A few weeks ago, a human thought it was his food – I got so angry LOL! I am not sure about you; but the food is the best part for me. I sit there on the chair feeling like a king with humans serving me food ON a proper dining plate – what's more to ask? Oh – not forgetting, we get free flow water as well haha! The humans on other hand are luckier, they get a buffet breakfast or a 4 or 7 courses dinner with free flow soft drinks. I notice there is so much food… so I try my luck and beg for human food too haha.
Need a furfriend? Dogs available for cruise companions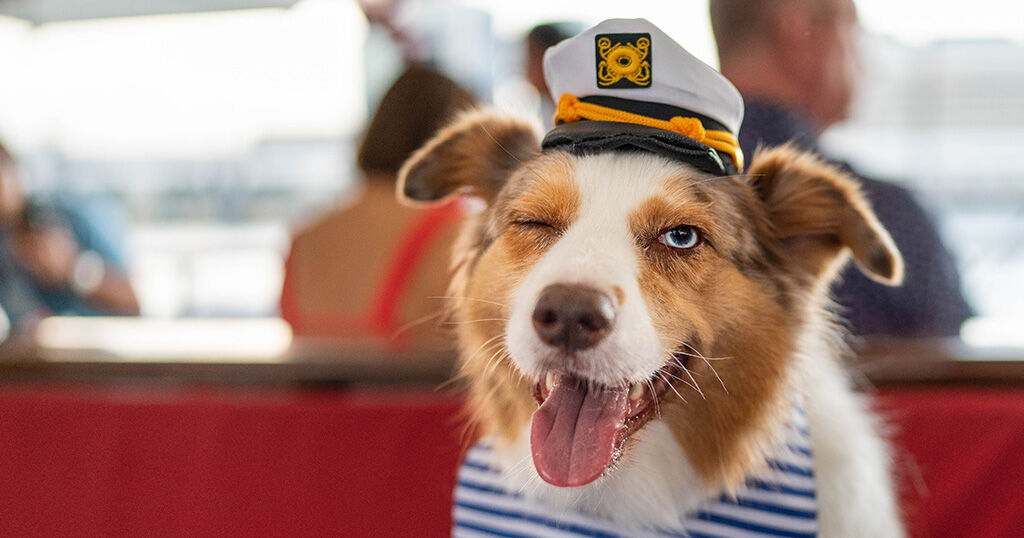 Occasionally, I am introduced to new human friends. Mum loans me out to couples who love dogs; but cannot have one, or foreign visitors who have left their doggies at home. Actually, I quite like this concept because I get loads of attention and if I'm a good boy, I am rewarded with even more food! All I have to do is sit there like a model dog, letting them take pictures, cuddle and kiss me. If I like them, I'll even give them a few licks… they find this so funny! Typically, these new friends are very generous with the treats so I am always on my best behavior! So if you're looking for a new furfriend, or you would just like to ask me out on a date, I'm here for you :-)
After our meals, it is time to relax – this means pee time after all the eating and drinking!!! Believe it or not, the Royal Albatross has a special grass patch downstairs especially for us doggies. And it smells so good… I can detect hundreds of doggies have been there before lol!
Ok, I am finally done with my review! Going to get my meal as a reward now. My name is Tyson, a male Singapaw Special, adopted, 23kg hunky and I think I'm about 8 years old! If you would like to hear more about Dog Cruise and my adventures, please feel free to follow us on @dogcruise.sg on Instagram!