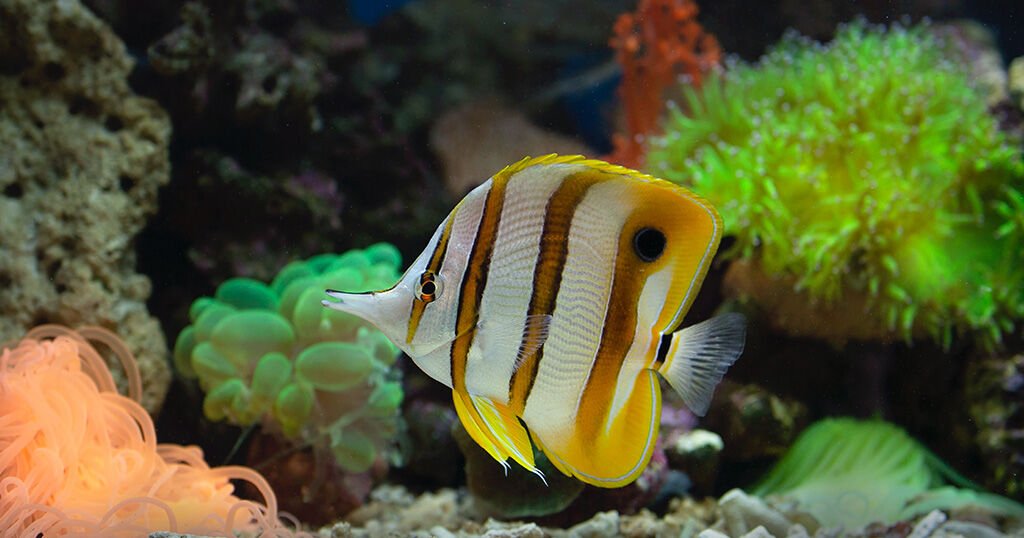 A healthy fish is likely also a happy fish, observing their eating and socializing behaviours as well as their general appearance should indicate their overall well-being.
Though it may be tricky to determine if your fish are happy, there are definitive ways to tell if they're healthy. And since a healthy fish is likely a happy one, look for the following signs of wellness.
Swim actively and explore its surroundings
Interacts often and well with other fish.
Eat regularly and swim to the surface quickly at feeding time.
Do not have white spots or blemishes on their body and torn fins
Are expanding their gills regularly to take in water and oxygen
Are brightly colored with vibrant scales
Ways to keep fish happy
A happy fish is a healthy fish, and with just a few essentials and some care and feeding, your fish will be vibrant and full of life.
KEEP THE TANK CLEAN
No creature wants to swim about in dirty or toxic water. Changing 25% of the water every two weeks is the primary step to maintaining it properly.
PROVIDE ADEQUATE LIGHTING
Fish need light approximately 10-12 hours each day, but not direct sunlight. Using light that mimics the natural day/night cycle provides vital photosynthetic energy to both the fish and the plants in the tank.
ENSURE THE CORRECT WATER TEMPERATURE
Ensuring the water parameters of the tank are correct is also vital to having healthy, happy fish. Confirming that the water is conditioned properly with the right pH level and at an appropriate temperature is key. Also, checking the filters regularly helps keep the water clean and safe for fish.
GIVE THE RIGHT FOOD
Just like any pet, fish need to be fed regularly with the highest quality food available. Proper nutrition is vital. To provide a variety of nutrients, consider feeding them both fish flakes/pellets as well as freeze-dried options like brine shrimp and bloodworms.
ROOM TO MOVE IN TANK
Having enough room to swim and explore freely in an aquarium is vital to fish health and happiness. An overcrowded tank not only raises stress and aggression in fish, but also increases the chances of illness and even death.