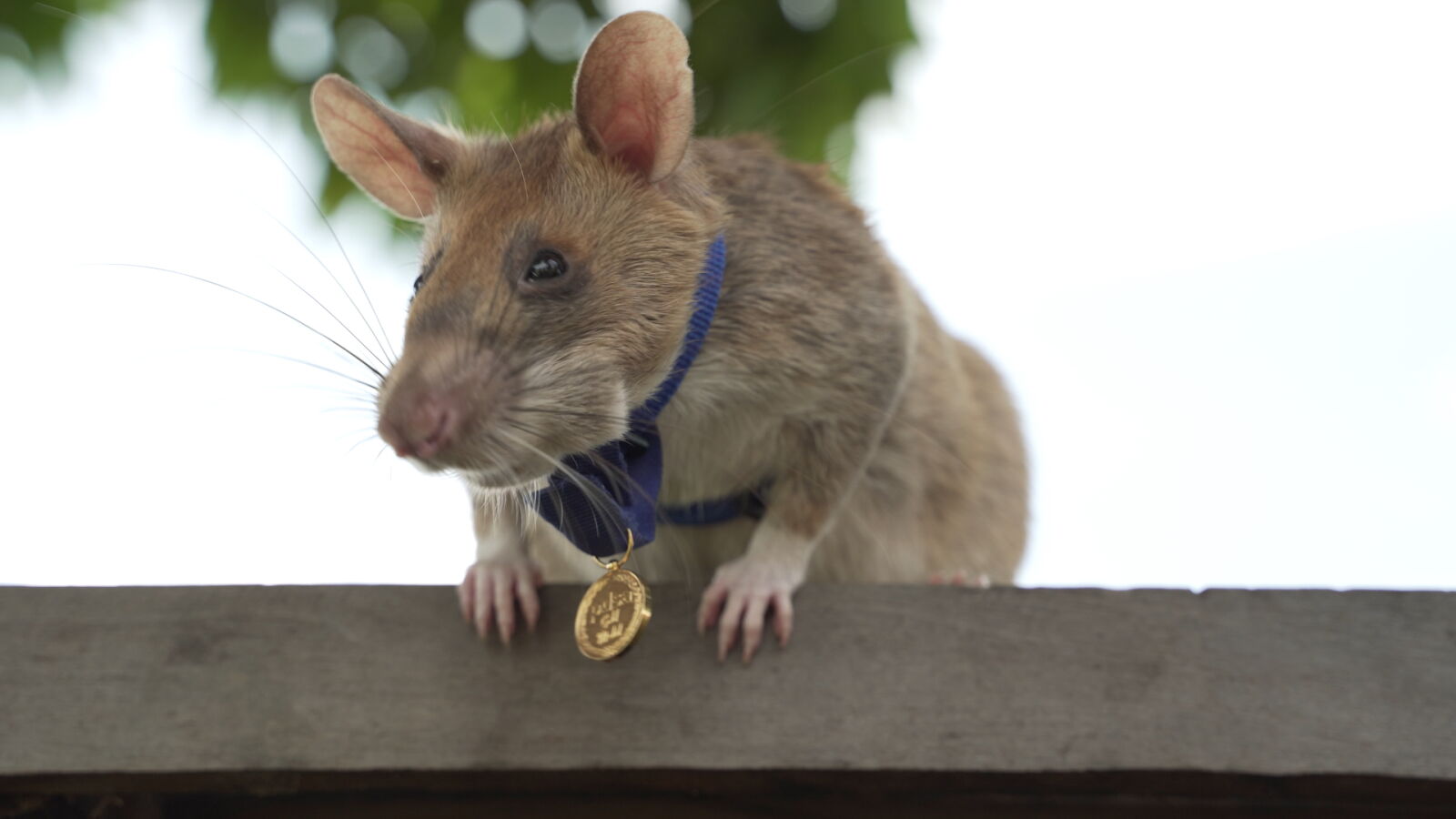 Magawa, is an African giant pouched rat born in Tanzania in 2013. This very talented sniffer rat has been working tirelessly for the past five years in Siam Reap, Cambodia.
For those living in the area who know him, he is more than a pet – he is their hero. Megawa the HeroRAT from APOPO, has directly saved the lives of men, women and children who were impacted by landmines and other remnants of war in Cambodia.
He has helped clear over 225,000 sq m of land, allowing local communities to live, work, play and be educated; without fear of losing life or limb. To give a better perspective: This rat can search an area the size of a tennis court in 30 minutes. A human de-miner with a metal detector will take up to four days.
Megawa retired in June this year from an illustrious career. He has to date found 71 landmines and 38 items of unexploded ordnance, making him the organisastion's most successful HeroRAT.
Training Rats
| | |
| --- | --- |
| Danger signs posted where mines exist. | Trainers walking in to search for mines. |
| De-miner in front of buried mine. | Magawa at work. |
The mine-training, non-profit organisation APOPO has clicker-trained these giant pouched rats to detect buried land mines around the world.

APOPO's operational headquarters, training and breeding centre is at the Sokoine University of Agriculture (SUA), in Morogoro, Tanzania. Here is where all the landmine detection rats are born and trained and here is where Megawa learned how to find explosives using his fantastic sense of smell.
Landmines are still inflicting pain and fear to a new generation of Cambodian people, a generation that wasn't even born when these mines were laid. Clearing minefields is intense, difficult, dangerous work and demands accuracy and time. This is where the animal detection systems comes in.
In 2020 alone, APOPO Cambodia cleared 4,389,935 sq m of land. This would not have been possible without the help of these little rodents.
Magawa Wins A Medal
Magawa has since been officially titled HeroRat and formally presented with a suitably rat-sized Gold Medal from the People's Dispensary for Sick Animals (PDSA), a British veterinary charity organisation. He is the first rat in the charity's 77-year history of honouring animals to receive a medal – joining a line-up of brave dogs, horses, pigeons and a cat.
Malen, Magawa's handler, said: "Magawa's performance has been unbeaten, and I have been proud to work side-by-side with him. But he is slowing down, and we need to respect his needs. I will miss working with him!"
A group of 20 newly trained landmine detection rats that arrived in Cambodia in March 2021, were tested by the Cambodian Mine Action Center (CMAC) and passed with flying colours.
All the new recruits went through a period of acclimatisation and re-training with their new Cambodian handlers. Now that they have received their external accreditation, they have been cleared to join team Magawa on the minefields!
| | |
| --- | --- |
| School children in Cambodia. | Trainer Malen holding Magawa. |
Giant Rats
Magawa is a African giant pouched rat, Cricetomys gambianus, also known as the Gambian giant pouched rat. These large muroid rodents are endemic in the sub-Sahara and Africa area and can grow up to a length of about 60cm, nose-to-tail long.
These rodents have long heads and large ears. Their head and body lengths range from 25 – 30cm and tails ranging from 30 – 35 cm. These little heroes generally weigh between 1 and 1.3 kg.
These rats are generally docile and are human-friendly animals and in captivity, they can live for about eight years. They get their name from the cheek pouches that are used to store and carry food.
The African giant pouched rats often hide their food in an underground access. While they have lousy eyesight, their keen sense of small enable them to find a previously buried cache of chow, or detecting underground landmines if need be.
The rats are nocturnal, but each animal is an individual with slightly different preferences — some are early risers and some like to sleep in a bit.
Photos by: Simon Guillemin, PDSA and APOPO
---
ABOUT APOPO…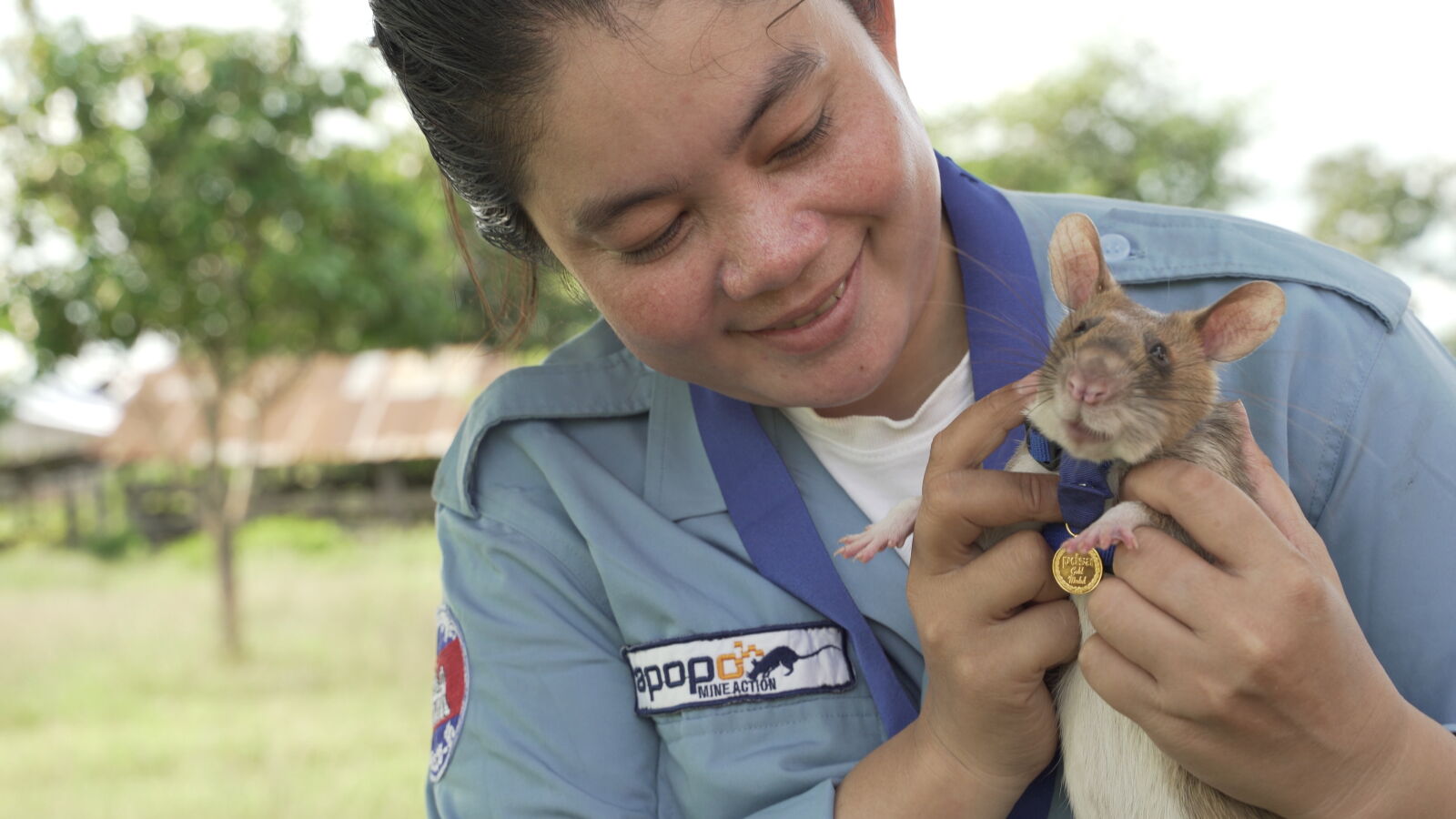 APOPO, a non-profit organisation, is working towards a Landmine Free 2025.
Early in APOPO's history Bart Weetjens created a strong, productive partnership with the Sokoine University of Agriculture (SUA), in Morgoro, Tanzania, that has continued until today.
After consulting with rodent experts and biologists at the University of Antwerp and SUA, the African giant pouched rat was chosen as the best-suited candidate. Under a collaboration agreement with SUA and the Tanzanian People Defense Forces, APOPO established its headquarters and training facilities on the SUA campus.
Worldwide some 60 countries are contaminated by landmines and other explosive remnants of war. Because landmines are victim-activated they kill indiscriminately. In 2017 landmines and explosive remnants of war caused at least 7,239 casualties, of which 87 percent were civilians and 47 percent children.
Its HeroRAT programmes are helping to find landmines in countries like Cambodia. When deployed alongside standard methods, they speed up the process, getting people's lives back on track as fast as possible.
You can support APOPO, and all those affected by landmines by making a donation at: APOPO
---