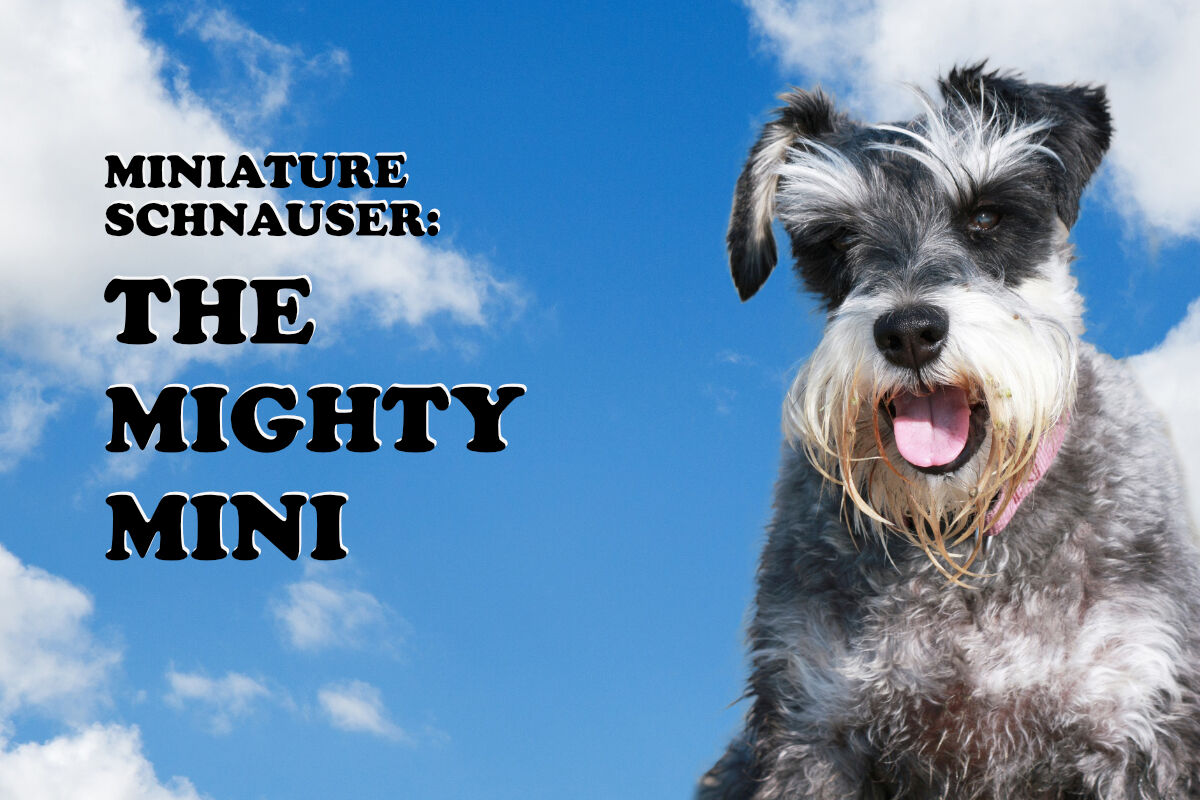 Boasting a superb temperament, the Miniature Schnauzer hankers for human companionship. It is consistently cheerful, sweet, and spirited yet obedient.
With his bushy beard and eyebrows the Minis offers a charming, human-like expression. Add to the mix, its outgoing personality, portable size, and sporty good looks, make him an ideal family dog.
Considered the smallest of the three Schnauzer breeds, the Mini is a generally healthy, stocky and robust little fella standing 30cm to 35cm in height. This low-shedding companion has a hard, wiry coat in three colour combinations: salt and pepper, black and silver, and solid black.
Cheery Characteristics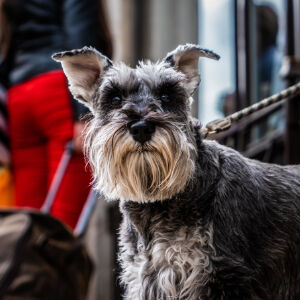 Minis are bright, friendly, easily trained and well suited to apartment living. These study little guys get along well with children and other animals and children, and enjoy the rambunctious play.
Vocal and alert by nature, he makes an excellent watchdog. Don't expect a Mini to be content curling up on the couch all day – he'll need brisk walks twice daily and time to romp around a field or park weekly.
Give him a toy, and this independent pooch will gladly amuse himself. Once his energy is spent, he'll will be more than happy to be your cuddle bug.
Health & Diet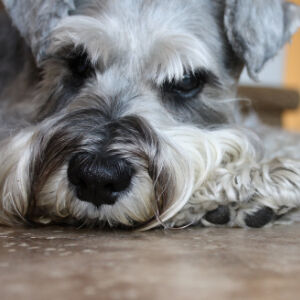 The Miniature Schnauzer is naturally hardy, so if cared for properly, it should stay in fairly good health for most of its life.
According to the American Kennel Club (AKC), there are a few conditions that the breed can be prone to, including cataracts, hyperlipidemia, pancreatitis, liver shunts, and urinary stones.
Dental care is an important aspect of overall health, and the dog's teeth should be brushed frequently. Vets will warn against feeding Minis high-fat foods, as it may trigger pancreatitis in a prone dog. Diet, sufficient exercise and monitoring are important for a breed like the Miniature Schnauzer that loves to eat and is prone to weight gain. Feed your pooch a diet that is high in fibre and low in fat.
Comedone syndrome or Schnauzer bumps are wart-like nodules that usually form along the spine of the dog. Akin to blackheads or pimples, these bumps are believed to be caused by clogged sebaceous glands, and some even contain pus.
They aren't contagious and they don't usually bother the dog. There is no proven cure, but a diet rich in omega-3 fatty acids and probiotics is known to reduce skin inflammation while weekly showers with an antimicrobial or antifungal shampoo may alleviate the condition.
Lookin' Good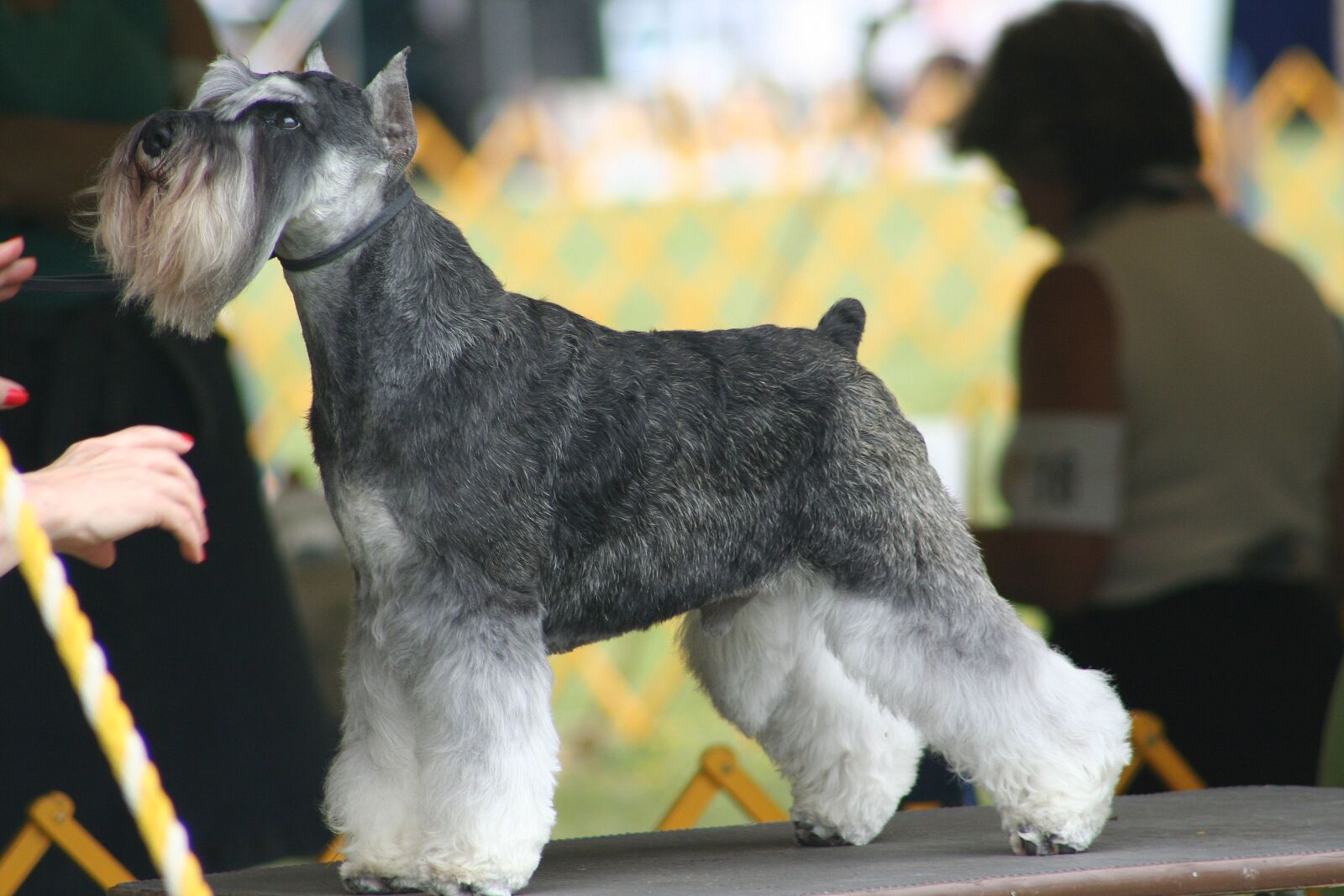 Available in one of four colours/colour combinations—salt and pepper; black and silver; black; and white (the latter is not a recognised hue for show dogs) – MiniatureSchnauzers require a fair bit of grooming and styling to maintain their dapper appearance.
Most pet owners opt for a clipped coat as hand-plucking is challenging to maintain. Rest assured that in the hands of a capable groomer, clippers can deliver an exceptional cut. However, a clipped coat results in a softer finish and a lighter shade than a hand-stripped coat.
Besides sending your pooch to the groomer's every month to two, he will require a bath once every couple of weeks – more if he has a serious case
of comedone syndrome.
Keep an eye on his long beard as it gets wet and dirty from daily activities, so it is important to thoroughly wash the beard after meals to reduce stains.
Ears should be cleaned weekly, and due to rapid hair growth within the ear. Pet groomers will generally recommend ear hair removal and cleaning at the groomer's to prevent bacterial infections.
Many Mini Schnauzers can be champions at obedience trials, agility, and other dog sports. Sturdy and muscular, the Mini Schnauzer is a relatively healthy breed that doesn't show signs of age until fairly late in life.

By: Patricia E Tan
---
Fun Fact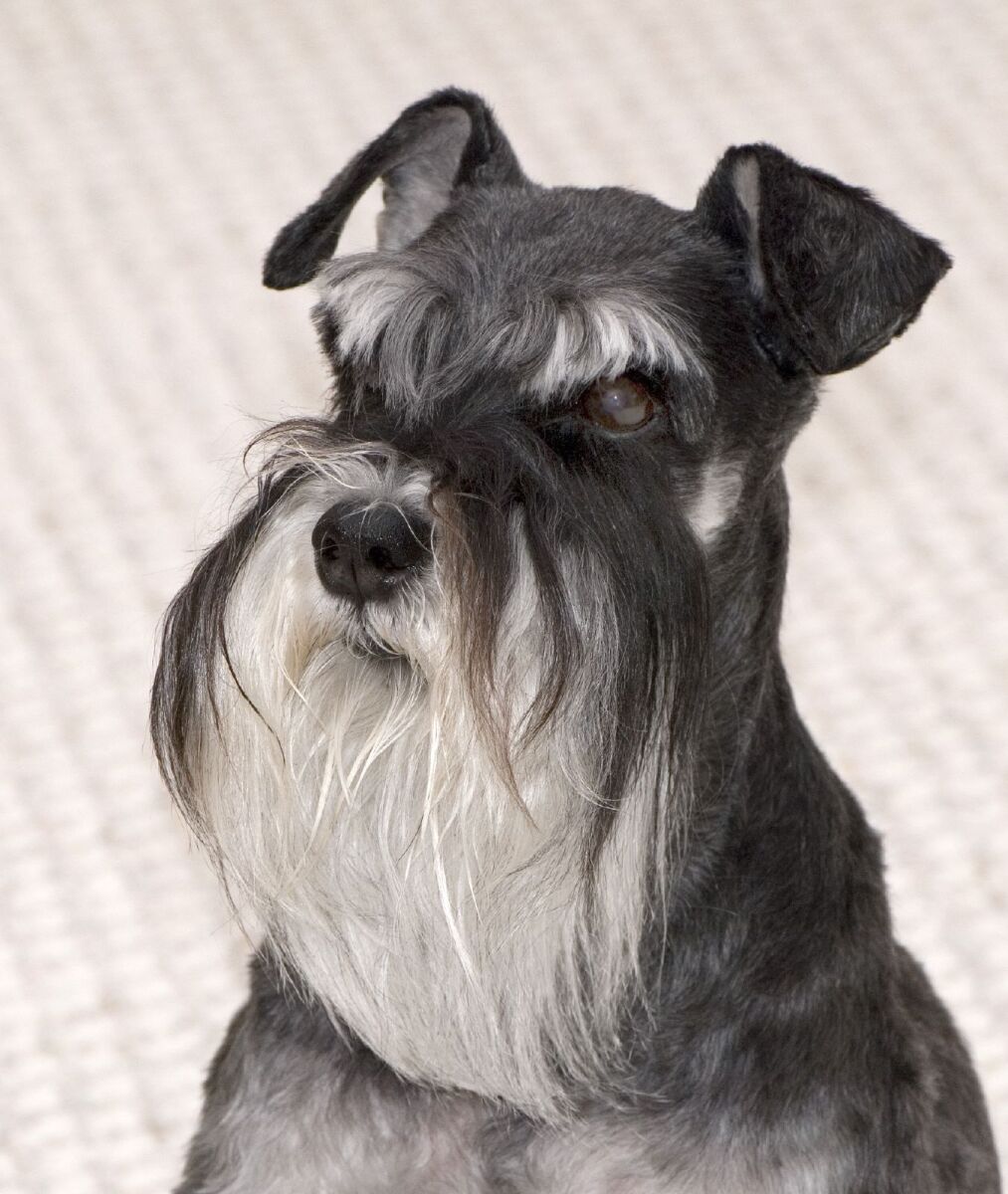 Derived from the German word for 'muzzle' or 'moustache', the Schnauzer refers to the Standard Schnauzer, the Giant Schnauzer, and the Miniature Schnauzer.
The latter two originated from the Standard, which is about three times the size of the Miniature.
The Standard Schnauzer was bred with Affenpinschers and black Poodles to create the Mini, which first appeared in the late 19th century.
Developed to exterminate rats on farms, its bushy beard used to be deliberately matted to guard against vicious rodents.
Although it barely sheds, the Mini Schnauzer's coat requires upkeep. The most popular hairstyle for household pets is the Schnauzer cut, which involves clipping the fur on the head, neck, and body close to the skin while leaving a neatly trimmed one-to-two-inch "skirt" around the base of the dog's trunk and slightly longer furnishings on the legs.
---
Schnauzer Bumps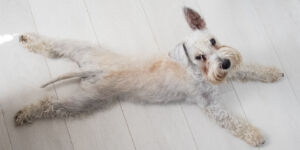 Schnauzer Comedo Syndrome (or, Schnauzer bumps) is a common skin disorder exclusively of Miniature Schnauzers.
The skin lesions usually appear on the dogs' back and feel like small scabs. They are much like "black heads" and are caused due to a defect in the hair follicles of the skin.
The lesions are usually not painful unless they become infected.
According to experts, treatment for schnauzer comedo syndrome includes antiseborhhea shampoos, antiseptic wipes and/or oral antibiotics if the lesions are infected.
Schnauzer Comedo Syndrome is not curable, but it is manageable. Some dogs will have flare-ups infrequently, while others need constant attention to their skin. This disease should in no way interfere with a happy, healthy dog.
---