Burp!: Everyday Jelly Cup Cat Treats 80g
"Burp!" a house brand, launched by Pet Lovers Centre (PLC) in 1996, has introduced a range of six Everyday Jelly Cup Cat Treats. These newly created premium delights are set to entice even the fussiest cat.
Available in a variety of flavours with either Chicken or Tuna meat, it makes a great meal topper or a perfect protein snack. To keep the food delectable and fresh, the treats are packed in two separate convenient 40 grms servings in each pouch.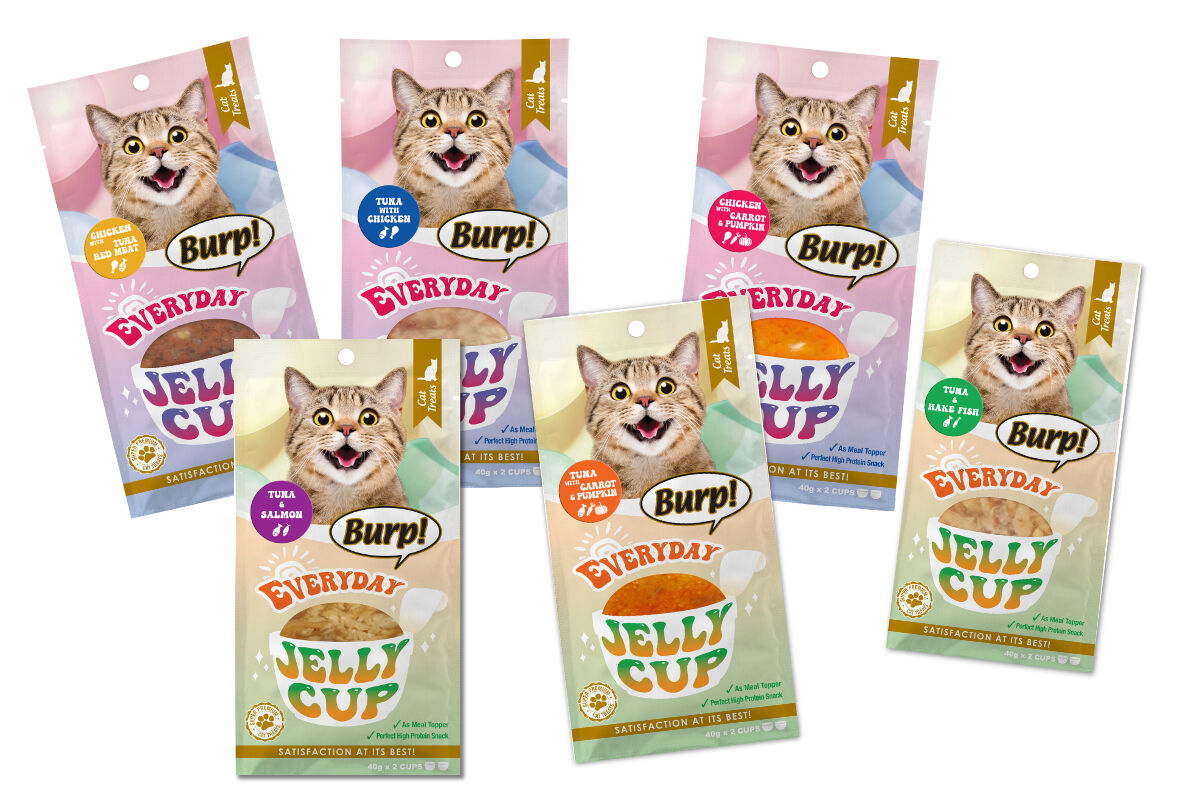 FLAVOURS AVAILABLE:
• Everyday Jelly Cup Chicken, Carrot & Pumpkin 80g (40g x 2)
• Everyday Jelly Cup Chicken & Tuna red meat 80g (40g x 2)
• Everyday Jelly Cup Tuna, Carrot & Pumpkin 80g (40g x 2)
• Everyday Jelly Cup Tuna & Chicken 80g (40g x 2)
• Everyday Jelly Cup Tuna & Salmon 80g (40g x 2)
• Everyday Jelly Cup Tuna & Hake fish 80g (40g x 2)
---
Burp!: Everyday Indulgence Wet Cat Food 85g
Burp! is an indulgence that your cat can enjoy every day! The balanced and complete cat food is made with 60% protein-origin ingredients. Suitable for all breeds of adult cats, there is no artificial colouring or flavours added.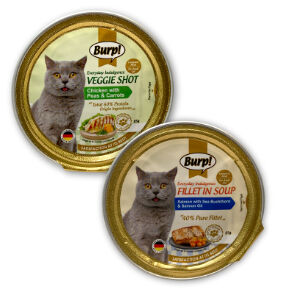 There are three different Veggie Shots and three different Fillet In Soup flavours to choose from.
VEGGIE-SHOT:
• 60% protein-origin ingredients
• 10% vegetable
FILLET IN SOUP:
• 40% pure fillet
• Superfood/superfruit added
• Carrageenan free
---
ERA: Grain Free Salmon & Venison For Dogs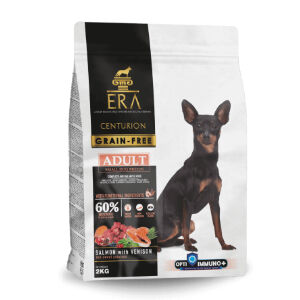 Consisting of high quality and functional ingredients, ERA's recipes aim to help your dog live a long, healthy life.
ERA's grain free salmon and venison is a complete and balanced food that is easily digestible. A careful selection of key natural ingredients, including added vitamins and minerals, are used to improve the function of your dog's body and increase his life expectancy.
Due to the high fresh meat content, the food is nourishing, and your dog will enjoy its excellent flavours.
---
Grandma Mae's: Grain Free Chicken Meal For Dogs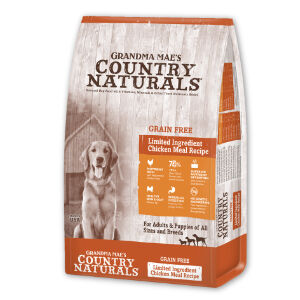 Grandma Mae's only uses the highest quality ingredients sourced from family farms in USA. Its Grain Free Chicken Meal Recipe is a non-GMO, limited ingredient dry food with healthy chicken meal as the first ingredient.
Chicken meal is highly digestible and an excellent source of amino acids and quality protein. Over 70 percent of the protein in Grain Free Chicken Meal Recipe is derived from animal sources. A slow-cook, low-temperature process helps to retain the nutritional value from all its ingredients.
---
Percuro: Insect Protein Puppy Small/Medium Breed Dry Dog Food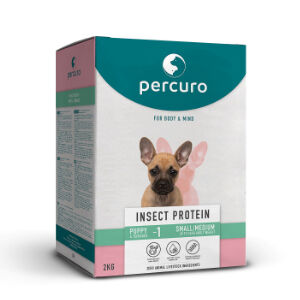 Complete, and natural, everyday dry food for small and medium breed puppies, formulated with a hypoallergenic clean insect protein and infused with hemp seed oil and chamomile for a healthy body and mind.
The Percuro small/medium breed dry dog food has everything a growing pup needs to thrive in body and mind. The deliciously healthy food comes with no hidden nasties like colourings, flavourings or preservatives.
---
Applaws: Chicken Breast With Asparagus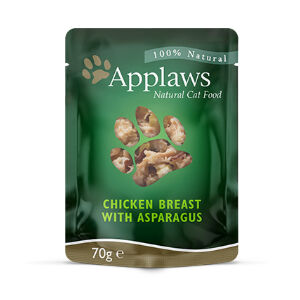 Applaws Chicken Breast with Asparagus in broth is a 100 percent natural complementary pet food for adult cats.
It offers 70 percent chicken breast meat, a natural source of Omega-6 in the pouch.
With no additives, the complementary pet food can be offered with any dry food for a complete and balanced diet.
---
Burp!: Ola Bone Dental Treats For Dogs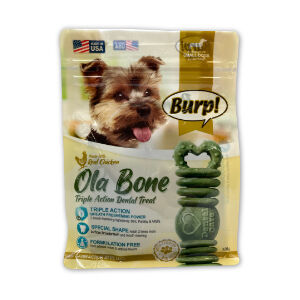 Burp Ola Bone is a dental treat that cleans up to two times the surface area of similar products. It contains three breath-freshening ingredients – mint, parsley, alfalfa – to fight bad breath.
The treat is formulated with added calcium carbonate to reduce the risk of tooth decay and help maintain strong, healthy bones. Made with real chicken, these dental treats do not contain artificial colouring or flavouring.
Available in three different sizes for small, medium and large dogs.
---
Puffsters: Apple & Chicken Chips For Dogs 113g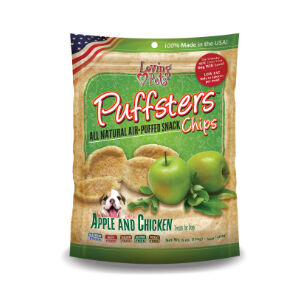 Puffsters Apple and Chicken makes the perfect training treat or an anytime snack. At less than 10 calories per treat, your pet can indulge in this guilt-free snack made with delicious chicken and apples.
Made with chicken and apples, each bag contains more than 50 treats and no soy, corn or glycerine.
---
Almo Nature: HFC Confiserie With Apple & Yoghurt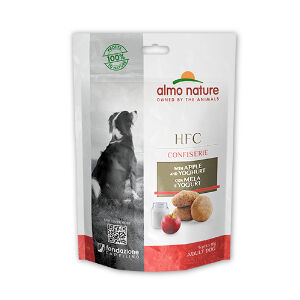 Get ready to be spoilt for choice with the new HFC dog treats. Made with 100% Human Food Chain (HFC) ingredients, Almo Nature's Confiserie with Apple & Yoghurt is oven-baked in an Italian patisserie. These tasty bites offers a delicious treat for your dog. Chewy and soft on the inside and crispy on the outside, it's 100 percent vegetarian.
The treat is free from corn, soy, additives, food colouring, chemical preservatives and palm oil. The product remains fresh with its resealable packaging, and the aroma is completely preserved, even after opening the pouch.
---
Activpetz: Supplement-Infused Dog Treats 198g
ActivPetz Digestive Health and Probiotic Formula promotes your pet's active lifestyle. There is absolutely no gluten, grain, soy or wheat. This tasty treat is fortified with significant levels of veterinarian recommended prebiotics and probiotic cultures to help maintain healthy bacterial population and support digestive health.
Made with real meat, it is easy to chew and promotes your dog's healthy digestive health with probiotics.
---
Trustie: Charcoal Ultra-Absorbent Wee Pads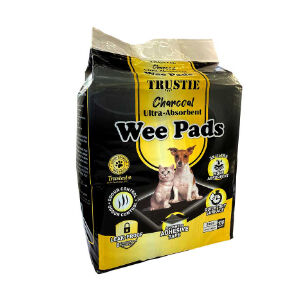 Be well equipped for long trips and puppy training with the Trustie Charcoal Ultra-Absorbant Wee Pad.
With 3X more absorption than the original Trustie Wee Pads, the ultra-absorbent wee pads can last longer. They also contain activated charcoal to eliminate odour and a surface that dries two times faster than the original. The floor lock system uses adhesive tapes for fuss-free attachment to the floor or pee tray.
---
Savic: Carbon Puppy Trainer Pads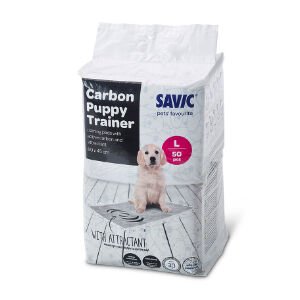 These pads from Savic are super absorbent and offer a clean and easy way to toilet train your puppy. The combination of non-woven fabric and an active carbon layer ensures fast and strong absorption.
The pads have a built-in pheromone attractant which encourages the use of the pads. In addition, the Silica gel filling converts liquids into gel, so no wet paw prints are left on the floor and your puppy's paws stay clean and dry.
---