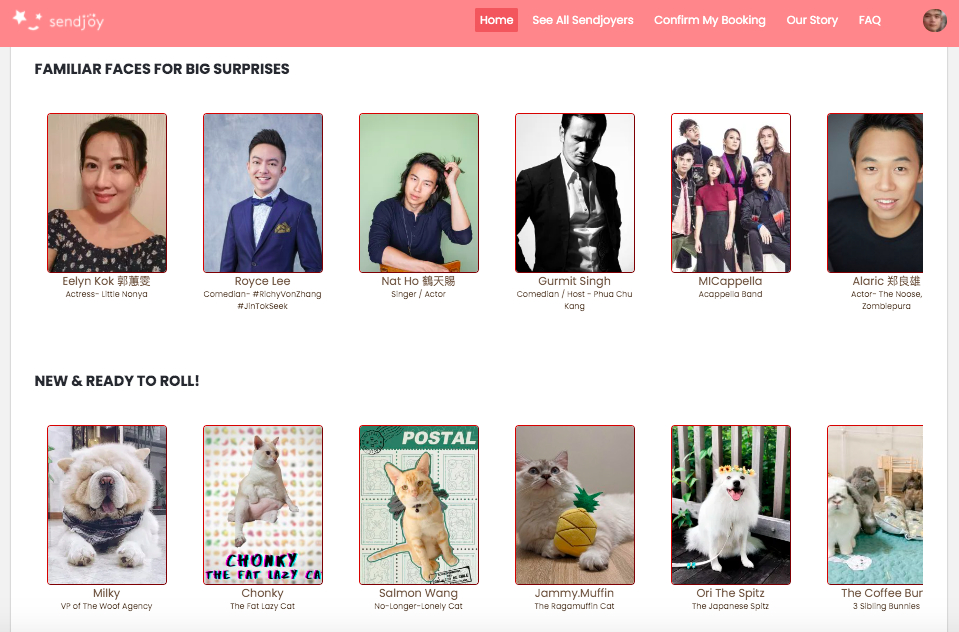 Imagine waking up in the morning, receiving a video from a friend, with your favourite kitty celebrity saying hi to you – a simple message, delivered by a furball of joy.
In October 2020, celebrity video booking platform Sendjoy, signed an exclusive partnership with Asia's first pets-only influencer agency The Woof Agency (TWA) to do just that.
Sendjoy is a platform where anyone can dedicate personalised video messages from celebrities and creators to surprise their loved ones.
Local celebrities like Gurmit Singh, Nat Ho and Alaric, as well as popular creators, illustrators and magicians, are currently on the platform.
Co-founder Ser En, said: "We created Sendjoy, so we can all easily dedicate a one-of-a-kind surprise video to brighten up someone's day. We started with human celebrities, but we thought, why stop there?
Ser En is Singapore's first film producer to have won a BAFTA Film Award and an Annie Award for her 2018 animated short film, Poles Apart.
Currently, eight pet Sendjoyers are waiting to surprise your friends and family. Notably, TCP artistes Shawn Thia, Leon Lee and Benzo are donating their proceeds to animal shelters – SOSD and OSCAS Dog Shelter.
For more information or to book a video greeting visit: Sendjoy.