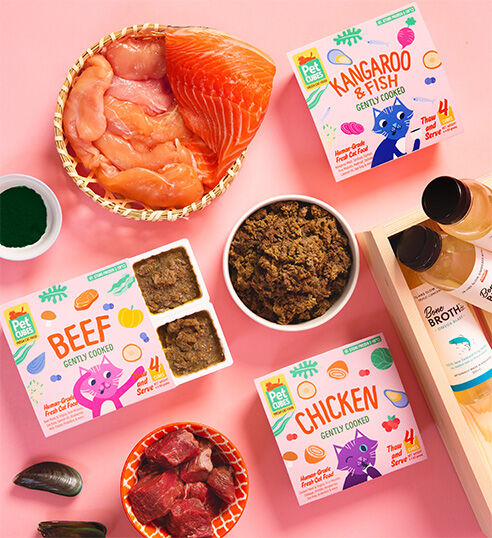 The Benefits of Fresh Feeding

What exactly is fresh feeding for cats?

Fresh feeding is feeding your cats a diet made from real, whole ingredients that are minimally processed, such as beef, lamb, and chicken, coupled with a small amount of fruits and vegetables. This can do wonders for their long-term health by protecting their heart, boosting and maintaining energy levels, making coats shiny, improving dental health, maintaining eyesight, and even changing the consistency of their stools which reflects better gut health.
Homemade diets are very popular fresh diet for cats but this can be a time-consuming and challenging process, particularly for new owners. This type of fresh diet for cats is not subjected to the same scrutiny and testing as commercial complete and balanced meals. This can result in your cats lacking the nutrients they need, resulting in a weakened immune system and potentially life-threatening health issues.
The immune system is essential to preserving your cats' overall health. For their immune system to function properly, a complete and balanced diet is essential. Diets prepared from only natural and highly bioavailable ingredients also have the added benefit of modulating the immune system to make it more efficient and strengthen your cat's cells to protect them from oxidative damage.
The First Ever Gently Cooked Cat Food in Singapore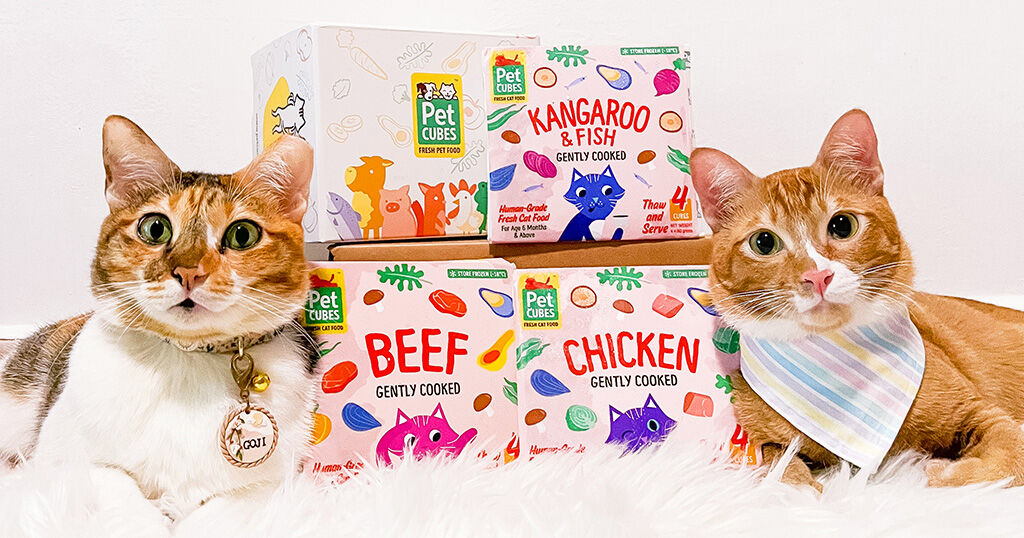 Domestic and wild cats will naturally select diets high in protein with relatively medium fat levels which is why PetCubes' Gently Cooked Fresh Cat Food Range is exactly that. High protein, appropriate fat, and super low carbohydrate contents. Introduced for the first time in Singapore, the Gently Cooked Cat Food formulas contain 90% meat and organs and 10% of functional and appropriate vegetables, fruits, and herbs. The cubes are fortified with taurine, vitamin E, and vitamin D to guarantee that your cat's nutritional needs are met.
Every element in the formulas which supports fresh feeding for cats works to nourish the cat's entire body. Different berries containing antioxidants support memory and brain health while slowing cognitive decline. In addition to prebiotics, probiotics, and a collagen mix, soluble fibres from dandelion roots, beetroots, pumpkins, and cabbages help calm the stomach lining, reduce inflammation, and support a balanced microbiome in your cat's gut. Spirulina contains a number of components that have been proven to strengthen your cat's immune system, while mushrooms contain beta-glucans, which have been shown to fight cancer. Both milk thistle and ashwagandha root are well-known for their ability to help cats manage and reduce their natural stress responses. They have been shown to help boost the activation of your cat's inherent anti-cancer genes when combined! It may sound strange to have plants in a cat's diet considering they are carnivores but rest assured, in a fresh diet for cats, a minimal amount of these plants has immense health benefits.
PetCubes, which has a well-established line of gently cooked formulations for dogs, wants the local felines to be able to experience the benefits of a fresh diet as well. All PetCubes recipes are completely balanced and meet the AAFCO nutrient recommendations for adult cats, thanks to their Director of Nutrition, Dr. Francis Cabana, Ph.D. in Wildlife Nutrition. Cat owners don't need to add any extra nutritional additives to make it a balanced diet, which simplifies fresh feeding and ensures your cats are eating the best and most nutritious food possible.
All pet parents may rest easy knowing that PetCubes' formulas never contain any preservatives, fillers, artificial flavouring, or food dyes and use only the best human-grade ingredients.
Follow Petcubes on instagram at @petcubes and check out what they have in store for you!