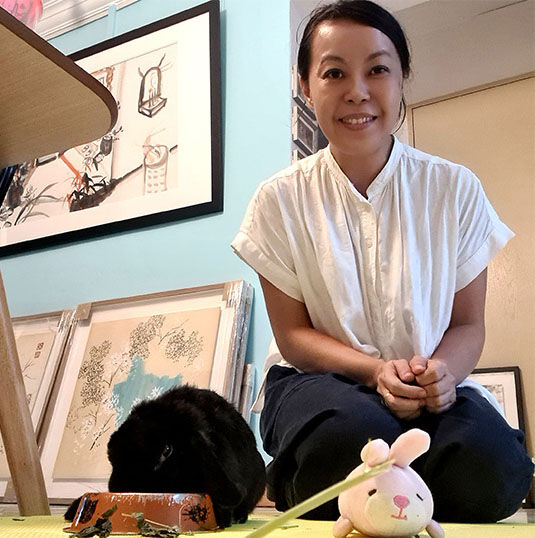 Award-winning contemporary ink artist, Quek Kiat Sing is no stranger to painting small animals. While her favorite subject matters include the lotus ponds, people and places in Singapore, the part-time lecturer at Nanyang Academy of Fine Arts (NAFA) advocates for pet adoptions too.
Quek's upcoming solo exhibition titled, 'Overcoming' has rabbits as her main subject to celebrate the next lunar year of the rabbit. As a pet parent, she shares that rabbits are badly misunderstood.
"In their daily interaction with humans, rabbits need to cope with the ignorance presented by new pet owners, such as they cannot take a bath, and that a bath is life-threatening to them. Likewise, rabbit owners need to take the leap to gain knowledge on how to handle pet rabbits, in order to co-exist in harmony with them," the homegrown artist pointed out.
"For instance, keeping the rabbits in a cage will just encourage more aggression from them, and the fact is rabbits need to run and exercise freely. Both the pet and the owner need to "overcome" ignorance and fear that arises due to misunderstanding, in order to live happily together," she adds.
Quek's notable works can be seen at Shenton Way MRT Station under the Land Transport Authority's Art-in-Transit programme for the Thomson Line.
"My favourite painting in the upcoming rabbit series show would be the largest piece, The Seven Princesses. The bunny models are: Yen Yen, Bella (both of them are pretty popular and famous online), Sugar, Fanny, Darcy, Harper and Eva. I know most of these bunnies personally, or have been a fan of them for quite a while. Most of them are from the shelter, Bunny Wonderland. So, composing them in a piece was very exciting."